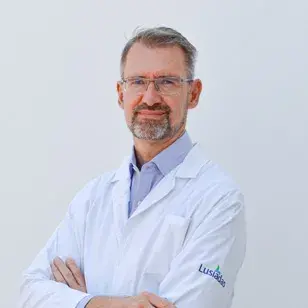 Dr. Georg Michael Hess
Hospital Lusíadas Albufeira:
Languages
Portuguese, English and German
Areas of Interest
Endoscopic Spine Surgery for the treatment of sciatica and herniated discs; Second Opinion for questions related to the spine; Minimally invasive procedures for chronic spinal pain
Consultations
Orthopedics Consultation
Breve CV
Degree in Medicine from the University of Duesseldorf, Germany, in 1995.
PhD in Orthopedics, Faculty of Medical Sciences, University of Ulm, Germany.
Master Instructor of the Spine Intervention Society (SIS), United States.
Medical degree in Germany and UK (GMC: 7057381).
schedules and agreements
Hospital Lusíadas Albufeira
Clínica Lusíadas Faro
Hospital Lusíadas Albufeira

Clínica Lusíadas Faro