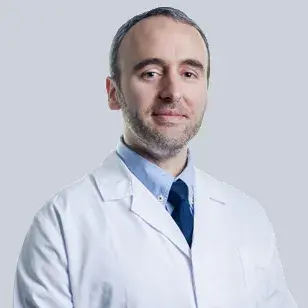 Dr. Pedro Ponte
Unit Coordinator of Dermatology — Hospital Lusíadas Lisboa
Hospital Lusíadas Lisboa:
Languages
Portuguese and English
Book
Videoconsultation
Areas of Interest
Skin tumors; Psoriasis; Acne; Hair disorders; Sexually transmitted infections; General dermatology; Dermatologic surgery; Laser therapy
Consultations
Dermatology Consultation, Dermatology Consultation – Pediatric
Breve CV
Degree in Medicine from the Faculty of Medicine of Lisbon (2001).
General residency at Hospital Pulido Valente (2002 - 2003).
Dermatology and Venereology residency at Hospital do Desterro-Capuchos, Lisbon (2005 - 2009).
Naval Maritime Physician at Marinha Portuguesa (2003 - 2012).
Invited reviewer for the Journal of the American Academy of Dermatology (since 2009), the Journal of Medical Case Reports (since 2009) and the European Journal of Dermatology (since 2010).
Member of Sociedade Portuguesa de Dermatologia e Venereologia - SPDV (Portuguese Society of Dermatology and Venereology), the International Dermoscopy Society, Sociedade Portuguesa Interdisciplinar de Laser Médico (Portuguese Interdisciplinary Society of Medical Laser) and the European Academy of Dermatology and Venereology.
Secretary General of SPDV (2015 - 2016).
Coordinator of the Dermatology Department at Hospital Lusíadas Lisboa (2019 to present).
schedules and agreements
Agreements
SAMS Quadros
AdvanceCare
Allianz
CGD - Cartão de Crédito
Ecco-Salva
Future Healthcare
Grupo RAR
Jerónimo Martins
Lusíadas 4US
Medicare
Médis
Multicare
RNA Medical
SAMS SIB
SFJ - Sindicato dos Funcionários Judiciais
SSCGD
Staples
Universidade do Porto
KeepWells
Colaboradores Lusíadas (Seguro Saúde Médis)
Lusíadas Plan
SAMS Norte
Medical Port