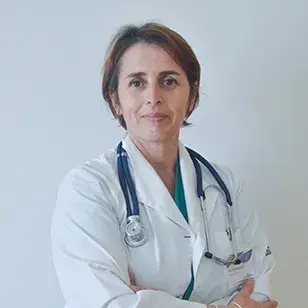 Dra. Ala Manolachi
Hospital Lusíadas Albufeira:
Languages
Portuguese, English, Russian, Moldovan and Romanian
Book
Videoconsultation
Areas of Interest
Hematology
Consultations
Internal Medicine Consultation, Hematology Consultation
Breve CV
Degree from Universidade São João do Porto in 2008.
Registered, in 2009, with the National Medical Council.
Common year of medical residency at CHBA Portimão in 2010.
Specialization in Internal Medicine at CHBA Portimão, having completed the residency (2011 - May 2016).
In 2014 Hematology internship at IPO Lisboa (Portuguese Institute of Oncology).
Currently Specialist in Internal Medicine at CHUA Portimão.
schedules and agreements
Hospital Lusíadas Albufeira
Hospital Lusíadas Albufeira
Agreements
SAMS Quadros
ADM / IASFA
ADSE
AdvanceCare
Allianz
Associação Mutualista Montepio Geral
CGD - Cartão de Crédito
Ecco-Salva
Future Healthcare
Jerónimo Martins
Lusíadas 4US
Medicare
Médis
Médis CTT
Multicare
Multicare - ACS
RNA Medical
SAD/GNR
SAMS SIB
Sãvida
SFJ - Sindicato dos Funcionários Judiciais
SSCGD
Staples
Universidade do Porto
KeepWells
Colaboradores Lusíadas (Seguro Saúde Médis)
Lusíadas Plan
SAMS Norte
Medical Port
ARS (SNS - Serviço Nacional de Saúde)
ADSE, IASFA, SAD PSP, SAD GNR - Tabela especial sem convenção