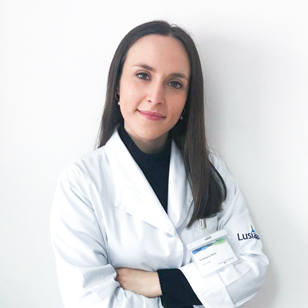 Dra. Cristiana Brito
Hospital Lusíadas Amadora:
Languages
Portuguese and English
Book
Videoconsultation
Areas of Interest
Overweight; Nutrition in Oncology; Diabetes; Cardiovascular Diseases; Food Allergies and Intolerances; Pediatrics; Inflammatory Bowel Disease.
Consultations
Nutrition Consultation, Consulta de Nutrição Pediátrica, Nutrition Consultation – Oncology
Breve CV
Graduated in Dietetics and Nutrition by Escola Superior de Tecnologia da Saúde of Lisbon.
Training in Perioperative Nutrition.
schedules and agreements
Hospital Lusíadas Amadora
Hospital Lusíadas Amadora
Agreements
SFJ - Sindicato dos Funcionários Judiciais
Staples
Particular
Jerónimo Martins
Lusíadas 4US
Medicare
Ecco-Salva
Lusíadas Plan
Colaboradores Lusíadas (Seguro Saúde Médis)
Fundação Salvador Caetano
Medical Port