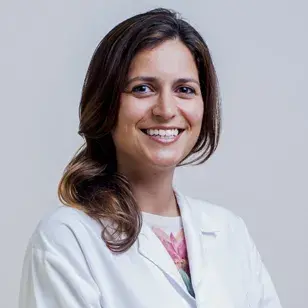 Dra. Fábia Santos
Hospital Lusíadas Albufeira:
Languages
Portuguese, English and Spanish
Areas of Interest
Orthodontics; Esthetic dentistry
Consultations
Dental Medicine Consultation, Orthodontics Consultation
Breve CV
Dentist with an integrated Master's Degree from Instituto Superior de Ciências da Saúde Egas Moniz, in 2008.
Invited assistant lecturing Conservative Dentistry I and II, at ISCSEM.
Orthodontic care consultation at ISCSEM, since 2010.
Dentistry and Oral Rehabilitation at Hospital Lusíadas Albufeira since 2012.​
Private practice in Dental Medicine since 2008.
schedules and agreements
Hospital Lusíadas Albufeira
Hospital Lusíadas Albufeira
Agreements
SAMS Quadros
AdvanceCare
Associação Mutualista Montepio Geral
CGD - Cartão de Crédito
Ecco-Salva
Future Healthcare
Jerónimo Martins
Lusíadas 4US
Medicare
Multicare
SAMS SIB
Sãvida
SFJ - Sindicato dos Funcionários Judiciais
SSCGD
Staples
Universidade do Porto
KeepWells
Colaboradores Lusíadas (Seguro Saúde Médis)
Lusíadas Plan
SAMS Norte
Medical Port