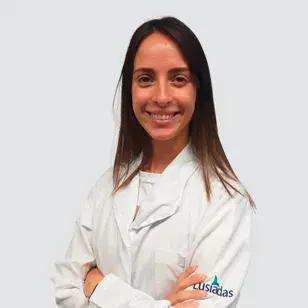 Dra. Sara Castro
Languages
Portuguese, English and Spanish
Areas of Interest
Implantology; Oral Rehabilitation; Aesthetic Dentistry
Consultations
Dental Medicine Consultation, Oral Implantology Consultation, Oral rehabilitation consultation
Breve CV
Integrated Master's degree in Dental Medicine completed in July 2012.
Master's thesis in dental aesthetics, obtaining a final classification of 18 out of 20.
Clinical practice at Medical Genetics I, II and Orofacial Genetics Department , Faculty of Dental Medicine of Porto (FMDUP, in portuguese) (2012 - 2014).
Member of the PROQUIF project between FMDUP and CHGaia/Espinho's obstetrics department (2013 - 2014).
Invited speaker at USF Camélias, in Gaia, and Instituto Bebé Vida, in Porto.
Postgraduate course in Implantology, oral rehabilitation and dental aesthetics (2014 - 2016).
Co-founder of the Dental Aesthetics Study Group.
Member of the young dentists and general assembly of the National Dental Council (2013 - 2020).
schedules and agreements
Hospital Lusíadas Porto
Clínica Lusíadas Gaia
Hospital Lusíadas Porto

Clínica Lusíadas Gaia
Agreements
SAMS Quadros
AdvanceCare
Associação Mutualista Montepio Geral
CGD - Cartão de Crédito
Ecco-Salva
Fundação Salvador Caetano
Future Healthcare
Grupo RAR
Imprensa Nacional - Casa da Moeda
Jerónimo Martins
Lusíadas 4US
Medicare
Multicare
Ordem dos Advogados (CD Porto)
SAMS SIB
SFJ - Sindicato dos Funcionários Judiciais
Staples
Universidade do Porto
KeepWells
Colaboradores Lusíadas (Seguro Saúde Médis)
Lusíadas Plan
Medical Port
ADSE, IASFA, SAD PSP, SAD GNR - Tabela especial sem convenção