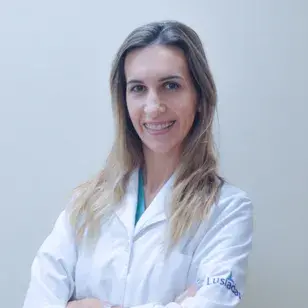 Areas of Interest
Electroencephalography (EEG); Sleep Studies (Polysomnography); Sleep Tracking (Adults and Pediatrics); Sleep Breathing Disorder; Neuropediatrics; Chronobiology and Sleep Medicine; Circadian Rhythms
Breve CV
Degree in Neurophysiology from CESPU-ESSVA (2009).
Master's course in Health Services Management from UTAD (2011).
Post-graduate course obtaining the degree of specialist in Chronobiology and Sleep Medicine by APCMS (2016).
Coordinator of Neurophysiology at CHU Algarve – Faro and Portimão and member of the Neurology and Neuropediatrics team in carrying out MCDTs (complementary diagnostic procedures) in public and private Health Units since 2010.
Member of the multidisciplinary team of the Sleep Laboratory at Hospital de Faro.
schedules and agreements
Hospital Lusíadas Albufeira
Clínica Lusíadas Faro
Hospital Lusíadas Albufeira

Clínica Lusíadas Faro