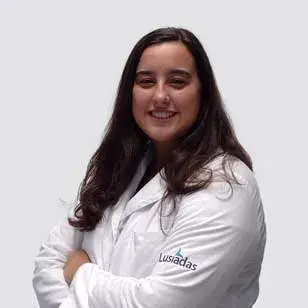 Therapist Inês Gonçalves Alves
Hospital Lusíadas Lisboa:
Languages
Portuguese and English
Areas of Interest
Intervention in neurological conditions (Post-CVA, Parkinson, Traumatic Brain Injury); Acquired speech and language disorders (Neurology); Intervention in children; Orofacial motor skills; Verbal articulation and language
Consultations
Speech Therapy
Breve CV
Degree in Speech Therapy from Escola Superior de Saúde do Alcoitão (ESSA) since 2019.
Training in "Dementias - construction of meaningful interactions" by ESSA.
Works as a Speech Therapist in Clinics, Hospitals and Integrated Continuous Care Units since 2019.
schedules and agreements
Agreements
SAMS Quadros
AdvanceCare
Allianz
Future Healthcare
Médis
Multicare
SAMS SIB
SSCGD
KeepWells
Lusíadas Plan