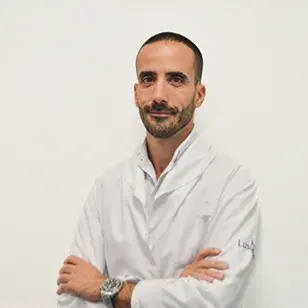 Dr. Abel Garcia Abejas
Unit Coordinator of Palliative Care — Hospital Lusíadas Lisboa
Hospital Lusíadas Lisboa:
Languages
Portuguese, Spanish, English, Italian and Hebrew
Book
Videoconsultation
Areas of Interest
Adult health, areas of prevention and prescribing, ethical conflict management, dementia, chronicity and end of life. Mental health, Diabetes, HTA, and management of other risk factors. Medical oncology in primary care.
Consultations
General and Family Medicine Consultation, Palliative Care Consultation, Post-COVID Consultation - General and Family Medicine
Breve CV
PhD student UCP-IB (2019).
Professor na UBI (Bio Ética) Universidade da Beira Interior - Faculdade de Ciência da Saúde (2019).
Teacher in UBI (Bio Ethic) University of Beira Interior Faculty of Health Sciences (2019).
Postgraduate in Oncology in primary care (2019).
Member of: Spiritual Care Group of APCP (2019), GESPAL of APMGF (2019), GECS - ISCSP (2019), Ethic Comity of APCP (2018).
Health Management Program (Catholic University of Lisbon) - Lisbon (2018).
Course in Ethics and good clinical practices – Borja Int (Ramon Llul –Barcelona), 2017.
Bioethics Master in Borja Institute (2017-2019).
Subspecialty Palliative Care Dr. OMS Lisbon (2015).
Bioethics Postgraduate in Borja Institut (Ramon LLul – Barcelona) "university expert in clinical bioethics"(2015).
ICO-ICCO training (Prof. Joan PortaSales) Barcelona - Institut Catalá de Oncologia (2013).
American Heart Association ALS – JMS school (2013).
Master in Palliative Care (FML, Lisbon), 2011.
Basic and Advanced life support course (European Association), 2007.
Specialty in Family and General Medicine (Health Center of Cascais – ARSLVT), 2006.
Course in Family and General Medicine (University of Saint Louise – Philadelphia – USA), 2005.
Training in Internal Medicine in the Sofia Medical School in Bulgaria (2000).
Degree in Medicine by Faculty of Medicine from Extremadura UEx - (Spain), 1995-2000.
schedules and agreements
Agreements
SAMS Quadros
AdvanceCare
Allianz
CGD - Cartão de Crédito
Ecco-Salva
Future Healthcare
Grupo RAR
Jerónimo Martins
Lusíadas 4US
Medicare
Médis
Médis CTT
Multicare
Multicare - ACS
RNA Medical
SAMS SIB
SFJ - Sindicato dos Funcionários Judiciais
SSCGD
Staples
Universidade do Porto
KeepWells
Colaboradores Lusíadas (Seguro Saúde Médis)
Lusíadas Plan
SAMS Norte
Medical Port
ADSE, IASFA, SAD PSP, SAD GNR - Tabela especial sem convenção