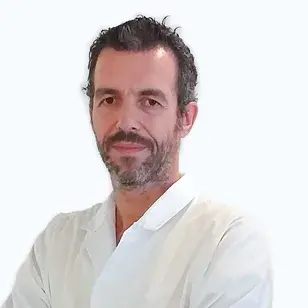 Dr. Alexandre Buinhas Marques
Hospital Lusíadas Amadora:
Languages
Portuguese and English
Areas of Interest
Critical patient (medical and surgical); Ultrasound; Echocardiography
Consultations
Internal Medicine Consultation
Breve CV
Degree in Medicine from Faculdade de Ciências Médicas, Universidade Nova de Lisboa (1997).
General Internship at Egas Moniz Hospital, S. Francisco Xavier Hospital and Alcântara Health Centre, Lisbon (1998 - 2000).
Complementary Internship in Internal Medicine at Hospital Egas Moniz, Lisbon (2000 - 2005).
Hospital Assistant in Internal Medicine at the Cardiac Intensive Care Unit (CUIC) of the Cardiology Service at Fernando da Fonseca Hospital (2005 - 2007).
Hospital Assistant of Internal Medicine/Intensive Care Unit at Hospital dos Lusíadas Lisboa (2007 - 2011).
Hospital Assistant of Internal Medicine/Intensive Care Medicine of the ICU of Hospital da Luz (2011 - 2019).
Coordinator of the PICU at Hospital Lusíadas Amadora (since 2019).
European Diploma in Intensive Care, European Society of Intensive Care Medicine (2009).
Reviewer of articles submitted for publication in Revista Portuguesa de Medicina Interna, Revista Portuguesa de Cardiologia and Acta Médica Portuguesa.
schedules and agreements
Hospital Lusíadas Amadora
Hospital Lusíadas Amadora