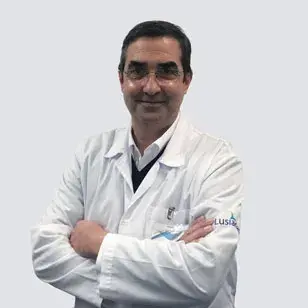 Dr. Carlos Vara Luiz
Unit Coordinator of Neurosurgery — Hospital Lusíadas Lisboa
Hospital Lusíadas Lisboa:
Languages
Portuguese, English, French and Spanish
Areas of Interest
Cerebrovascular pathology (aneurysm, arteriovenous malformation, cavernous angioma); Intracranial tumor pathology (meningioma, glioma); Degenerative spinal surgery (disc herniation, canal stenosis); Spine tumor surgery (neurinoma, meningioma); Trigeminal neuralgia; Orbital surgery; Peripheral nerve surgery
Consultations
Neurosurgery Consultation
Breve CV
Senior Hospital Assistant in Neurosurgery.
Director of the Neurosurgery Department - Hospital S. José.
Director of the Neurosciences Area - Centro Hospitalar Universitário Lisboa Central (CHULC).
Member of the Health Ethics Committee - CHULC.
Member of the Medical Council - CHULC.
Former President of Sociedade Portuguesa de Neurocirurgia / Portuguese Society of Neurosurgery.
National Medical Council President of the Neurosurgery Specialty.
Competency in Health Services Management - OM.
Qualification in Healthcare Management by Universidade Católica Portuguesa.
Qualification in Senior Management of Health Institutions by AESE.
schedules and agreements
Agreements
SAMS Quadros
ADM / IASFA
ADSE
AdvanceCare
Allianz
CGD - Cartão de Crédito
Ecco-Salva
Future Healthcare
Grupo RAR
Jerónimo Martins
Lusíadas 4US
Medicare
Médis
Médis CTT
Multicare
Multicare - ACS
RNA Medical
SAD/GNR
SAD/PSP
SAMS SIB
Sãvida
SFJ - Sindicato dos Funcionários Judiciais
SSCGD
Staples
Universidade do Porto
KeepWells
Colaboradores Lusíadas (Seguro Saúde Médis)
Lusíadas Plan
SAMS Norte
Medical Port
ADSE, IASFA, SAD PSP, SAD GNR - Tabela especial sem convenção