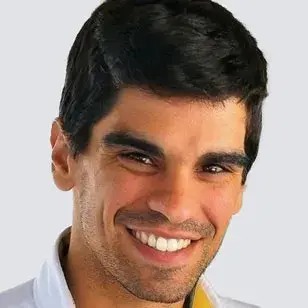 Dr. Daniel Coutinho
Languages
Portuguese, English and Spanish
Areas of Interest
General Pneumology (Asthma, COPD, Respiratory Infections, Sleep Pathology); Smoking Cessation; Pulmonary Tuberculosis; Early diagnosis of lung cancer; Post-COVID assessment
Consultations
Pulmonology Consultation, Smoking Cessation Consultation, Post-COVID Consultation - Pneumology, Pulmonology Consultation - Sleep, Early diagnosis of lung cancer appointment
Breve CV
Hospital Assistant in Pneumology at CHVNG/E.
Coordinating Physician at Centro de Diagnóstico Pneumológico de Oliveira de Azeméis.
Title of Specialist in Pneumology, registered with the National Medical Council's respective specialty.
Specialty Training Residency in Pneumology at CHVNG/E.
Integrated Master's degree in Medicine, Faculty of Medicine, University of Coimbra (FMUC).
Member of Sociedade Portuguesa de Pneumologia (Portuguese Society of Pulmonology).
Member of the European Respiratory Society.
Member of the Lung Cancer Study Group.
schedules and agreements
Agreements
SAMS Quadros
ADM / IASFA
ADSE
AdvanceCare
Allianz
Associação Mutualista Montepio Geral
CGD - Cartão de Crédito
Ecco-Salva
Fundação Salvador Caetano
Future Healthcare
Grupo RAR
Imprensa Nacional - Casa da Moeda
Jerónimo Martins
Lusíadas 4US
Medicare
Médis
Médis CTT
Multicare
Multicare - ACS
Ordem dos Advogados (CD Porto)
RNA Medical
SAD/GNR
SAD/PSP
SAMS SIB
Sãvida
SFJ - Sindicato dos Funcionários Judiciais
SSCGD
Staples
Universidade do Porto
KeepWells
Colaboradores Lusíadas (Seguro Saúde Médis)
Lusíadas Plan
SAMS Norte
ADSE, IASFA, SAD PSP, SAD GNR - Tabela especial sem convenção