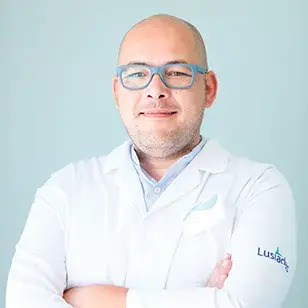 Dr. Franclim Tiago Ribeiro
Hospital Lusíadas Albufeira:
Languages
Portuguese, English, French, Spanish and Italian
Book
Videoconsultation
Areas of Interest
Psychology; Psychotherapy; Couple Therapy; Sexology
Consultations
Psychology Consultation, Couple Therapy - Psychology Consultation, Child and Adolescent Psychology Consultation
Breve CV
Clinical Psychologist, with Advanced Specialty in Psychotherapy, by OPP - Ordem dos Psicólogos Portugueses (Portuguese Psychologists Council).
Degree in Psychology from Instituto Superior da Maia (2003).
Director of Psychodrama by Sociedade Portuguesa de Psicodrama (since 2007).
Clinical Sexologist, by Sociedade Portugesa de Sexologia Clinica (Portuguese Society of Clinical Sexology) (since 2015).
PhD student in Psychology at the Faculty of Human and Social Sciences, Universty of Algarve.
Psychotherapist in clinical setting since 2003 (NewClinics, Clipóvoa - Póvoa do Varzim).
Psychologist and Psychotherapist at Lusíadas Saúde (Faro and Albufeira), since 2017.
Lecturer at Instituto Politécnico do Porto (2004 - 2005) and at the Instituto Universitário da Maia (2011/2012 to 2015/2016).
Forensic Psychologist at Instituto Nacional de Medicina Legal e Ciências Forenses (National Institute of Legal Medicine and Forensic Sciences) (since 2016).
Founding Member of Sociedade Portuguesa de Psiquiatria e Psicologia da Justiça (Portuguese Society of Psychiatry and Psychology of Justice).
schedules and agreements
Hospital Lusíadas Albufeira
Clínica Lusíadas Faro
Hospital Lusíadas Albufeira

Clínica Lusíadas Faro
Agreements
SAMS Quadros
AdvanceCare
Allianz
Associação Mutualista Montepio Geral
CGD - Cartão de Crédito
Ecco-Salva
Future Healthcare
Jerónimo Martins
Lusíadas 4US
Medicare
Médis
Médis CTT
Multicare
RNA Medical
SAMS SIB
Sãvida
SFJ - Sindicato dos Funcionários Judiciais
SSCGD
Staples
Colaboradores Lusíadas (Seguro Saúde Médis)
Lusíadas Plan
ARS (SNS - Serviço Nacional de Saúde)
KeepWells
Agreements
SAMS Quadros
ADM / IASFA
ADSE
AdvanceCare
Allianz
Associação Mutualista Montepio Geral
CGD - Cartão de Crédito
Ecco-Salva
Future Healthcare
Jerónimo Martins
Lusíadas 4US
Medicare
Médis
Médis CTT
Multicare
Multicare - ACS
RNA Medical
SAD/GNR
SAD/PSP
SAMS SIB
Sãvida
SFJ - Sindicato dos Funcionários Judiciais
SSCGD
Staples
Universidade do Porto
KeepWells
Colaboradores Lusíadas (Seguro Saúde Médis)
Lusíadas Plan
SAMS Norte
ADSE, IASFA, SAD PSP, SAD GNR - Tabela especial sem convenção