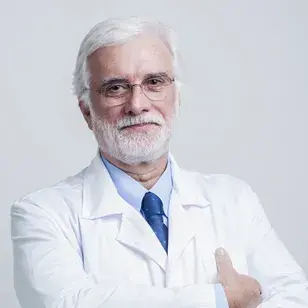 Dr. Hernâni Lencastre
Unit Coordinator of Thoracic Surgery — Hospital Lusíadas Porto
Languages
Portuguese, French and English
Book
Videoconsultation
Areas of Interest
Pulmonary pathology; Lung cancer
Consultations
Thoracic Surgery Consultation
Breve CV
Degree in Medice from FMU Porto (1974).
Specialist in Thoracic Surgery (1981).
Director of the Thoracic Surgery Service and Responsible for the Lung Group at IPO (Portuguese Institute of Oncology) Porto (2002).
Thorax and Circulation Director at Center Hosp. V.N. Gaia (2008).
Founding Specialist of the European Board of Thoracic and Cardiovascular Surgeons.
Director of Cardiothoracic Surgery Service.
Head of the Pulmonary Oncology group at Hospital Lusíadas Porto.
schedules and agreements
Hospital Lusíadas Porto
Clínica Lusíadas Gaia
Hospital Lusíadas Porto

Clínica Lusíadas Gaia
Agreements
SAMS Quadros
ADM / IASFA
ADSE
AdvanceCare
Allianz
Associação Mutualista Montepio Geral
CGD - Cartão de Crédito
Ecco-Salva
Fundação Salvador Caetano
Future Healthcare
Grupo RAR
Imprensa Nacional - Casa da Moeda
Jerónimo Martins
Lusíadas 4US
Medicare
Médis
Médis CTT
Multicare
Multicare - ACS
Ordem dos Advogados (CD Porto)
RNA Medical
SAD/PSP
SAMS SIB
SFJ - Sindicato dos Funcionários Judiciais
SSCGD
Staples
Universidade do Porto
KeepWells
Colaboradores Lusíadas (Seguro Saúde Médis)
Lusíadas Plan
SAMS Norte
ADSE, IASFA, SAD PSP, SAD GNR - Tabela especial sem convenção
Agreements
SAMS Quadros
ADM / IASFA
ADSE
AdvanceCare
Allianz
Associação Mutualista Montepio Geral
CGD - Cartão de Crédito
Ecco-Salva
Fundação Salvador Caetano
Future Healthcare
Grupo RAR
Imprensa Nacional - Casa da Moeda
Jerónimo Martins
Lusíadas 4US
Medicare
Médis
Médis CTT
Multicare
Multicare - ACS
Ordem dos Advogados (CD Porto)
RNA Medical
SAD/GNR
SAD/PSP
SAMS SIB
SFJ - Sindicato dos Funcionários Judiciais
SSCGD
Staples
Universidade do Porto
KeepWells
Colaboradores Lusíadas (Seguro Saúde Médis)
Lusíadas Plan
SAMS Norte
ADSE, IASFA, SAD PSP, SAD GNR - Tabela especial sem convenção