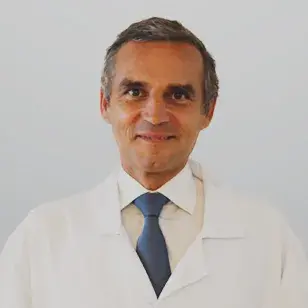 Dr. José Pedro Silva
Unit Coordinator of Ophthalmology — Hospital Lusíadas Lisboa
Hospital Lusíadas Lisboa:
Languages
Portuguese, English, French and Spanish
Book
Videoconsultation
Areas of Interest
Refractive Implant (Cataract Surgery, Myopia, Hyperopia, Astigmatism and Presbyopia - near vision difficulty) and Glaucoma
Consultations
Ophthalmology Consultation, Ophthalmology Consultation – Refractive Implants
Breve CV
Degree in Medicine from Nova Medical School, Universidade Nova de Lisboa (in portuguese, FCM-UNL) in 1990.
Specialist in Ophthalmology in 1997.
Hospital Assistant Graduate in Ophthalmology at H.S. José - CHLC until 2012.
Invited Assistant at FCM-UNL until 2011, following Teaching Aptitude and Scientific Capacity Tests.
Secretary-General of Sociedade Portuguesa de Oftalmologia (Portuguese Society of Ophthalmology) (2011 - 2012).
National Medical Council board member for the specialty of Ophthalmology (2004 - 2007).
schedules and agreements
Agreements
SAMS Quadros
ADM / IASFA
ADSE
AdvanceCare
Allianz
CGD - Cartão de Crédito
Ecco-Salva
Future Healthcare
Grupo RAR
Jerónimo Martins
Lusíadas 4US
Medicare
Médis
Médis CTT
Multicare
Multicare - ACS
RNA Medical
SAD/GNR
SAD/PSP
SAMS SIB
Sãvida
SFJ - Sindicato dos Funcionários Judiciais
SSCGD
Staples
Universidade do Porto
KeepWells
Colaboradores Lusíadas (Seguro Saúde Médis)
Lusíadas Plan
SAMS Norte
Medical Port
ADSE, IASFA, SAD PSP, SAD GNR - Tabela especial sem convenção