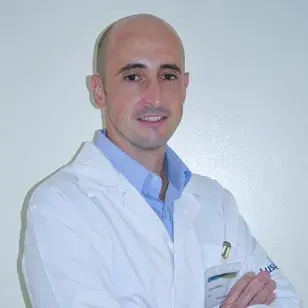 Dr. Luis dos Santos Cardoso
Hospital Lusíadas Amadora:
Clínica Lusíadas Oriente:
Languages
Portuguese, English and Spanish
Areas of Interest
Spine diseases: Degenerative (herniated discs, spondylolisthesis, among other causes of medullary or radicular compression), Traumatic (Fractures), Tumoral and Infectious. Treatment of Back Pain. Peripheral Nerves (eg Carpal Tunnel Syndrome). Cranioencephalic Diseases (Tumoral and Traumatic). Conventional Surgery; Microsurgery; Minimally Invasive Surgery, Percutaneous Techniques and Pharmacological Treatment.
Consultations
Neurosurgery Consultation, Neurosurgery Consultation - Diseases of the Spine
Breve CV
Integrated Master's degree in Medicine from Nova Medical School, Universidade Nova de Lisboa.
Specialty in Neurosurgery, with medical residency at the Neurosurgery Department of Hospital de São José.
European Spine Differentiation Course: EUROSPINE - the European Spine Course Diploma Curriculum, obtaining the EUROSPINE Diploma.
Active participation in scientific meetings in Neurosurgery and Spine.
Publication of articles in Scientific Journals.
Member of Sociedade Portuguesa de Neurocirurgia/ Portuguese Society of Neurosurgery.
Member of the European Association of Neurosurgical Societies.
Member of Sociedade Portuguesa de Patologia da Coluna Vertebral / Portuguese Spine Society.
Member of the National Medical Council.
schedules and agreements
Hospital Lusíadas Amadora
Clínica Lusíadas Almada
Clínica Lusíadas Oriente
Hospital Lusíadas Amadora

Clínica Lusíadas Almada

Clínica Lusíadas Oriente
Agreements
SAMS Quadros
Particular
ADM / IASFA
ADSE
AdvanceCare
Allianz
Ecco-Salva
Fundação Salvador Caetano
Future Healthcare
Imprensa Nacional - Casa da Moeda
Jerónimo Martins
Lusíadas 4US
Medicare
Médis
Médis CTT
Multicare
Multicare - ACS
RNA Medical
SAD/GNR
SAD/PSP
SAMS SIB
Sãvida
SFJ - Sindicato dos Funcionários Judiciais
SSCGD
Staples
KeepWells
Colaboradores Lusíadas (Seguro Saúde Médis)
Lusíadas Plan
SAMS Norte
ADSE, IASFA, SAD PSP, SAD GNR - Tabela especial sem convenção
Agreements
SAMS Quadros
ADM / IASFA
ADSE
AdvanceCare
Allianz
CGD - Cartão de Crédito
Ecco-Salva
Future Healthcare
Grupo RAR
Jerónimo Martins
Lusíadas 4US
Medicare
Médis
Médis CTT
Multicare
Multicare - ACS
RNA Medical
SAD/GNR
SAD/PSP
SAMS SIB
Sãvida
SFJ - Sindicato dos Funcionários Judiciais
SSCGD
Staples
Universidade do Porto
KeepWells
Colaboradores Lusíadas (Seguro Saúde Médis)
Lusíadas Plan
SAMS Norte
ADSE, IASFA, SAD PSP, SAD GNR - Tabela especial sem convenção
Agreements
SAMS Quadros
Particular
ADM / IASFA
ADSE
AdvanceCare
Allianz
Ecco-Salva
Fundação Salvador Caetano
Future Healthcare
Imprensa Nacional - Casa da Moeda
Jerónimo Martins
Lusíadas 4US
Medicare
Médis
Médis CTT
Multicare
Multicare - ACS
RNA Medical
SAD/GNR
SAD/PSP
SAMS SIB
Sãvida
SFJ - Sindicato dos Funcionários Judiciais
SSCGD
Staples
KeepWells
Colaboradores Lusíadas (Seguro Saúde Médis)
Lusíadas Plan
SAMS Norte
ADSE, IASFA, SAD PSP, SAD GNR - Tabela especial sem convenção