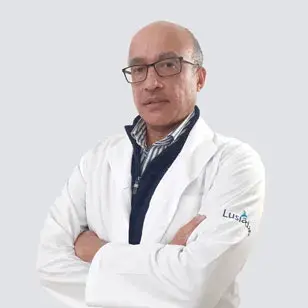 Dr. Mário Godinho
Hospital Lusíadas Amadora:
Clínica Lusíadas Oriente:
Languages
Portuguese and English
Videoconsultation
Areas of Interest
Clinical Dermatology; Benign and malignant tumor pathology
Consultations
Dermatology Consultation, Dermatology Consultation - Skin Tumors
Breve CV
Degree in Medicine from the Faculty of Medicine of Lisbon (1985 - 1991).
Specialist in Dermato-Venereology by Hospitais Civis de Lisboa in 1999.
Hospital Assistant at Hospital Distrital de Setúbal since 2000.
Responsible for the Dermatologic Surgery and Oncology consultation at the referred hospital.
schedules and agreements
Hospital Lusíadas Amadora
Clínica Lusíadas Oriente
Hospital Lusíadas Amadora

Clínica Lusíadas Oriente
Segunda-feira
14:00 - 18:30
Quarta-feira
08:00 - 12:00
Quinta-feira
14:00 - 18:30
Sexta-feira
14:00 - 18:30
Terça-feira
14:00 - 18:00
Quinta-feira
08:00 - 12:30
Agreements
Particular
ADM / IASFA
ADSE
Medicare
SAD/GNR
SAD/PSP
Sãvida
Lusíadas Plan
Agreements
Particular
ADM / IASFA
ADSE
SAD/GNR
SAD/PSP
Sãvida
Lusíadas Plan