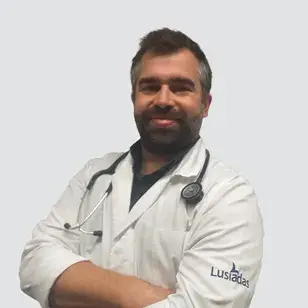 Dr. Miguel Neno
Languages
Portuguese, English and Spanish
Areas of Interest
Infection and Sepsis; Emerging infectious diseases (including COVID) and tropical medicine; Sexually transmitted diseases; Immunomodulation and iatrogenic immunosuppression; Infection in the immunosuppressed; Infection control, antibiotic prescribing support and prevention of antimicrobial resistance
Consultations
Infectious Diseases Consultation
Breve CV
Integrated Masters in Medicine from the Faculty of Medicine, University of Porto, completed in 2010.
Medical Internship in Infectious Diseases at Hospital de Santa Maria, CHLN, Lisbon, obtaining the specialist degree in 2017.
Hospital Assistant in Infectious Diseases at Pedro Hispano Hospital, ULSM and São João Hospital, CHUSJ (until June 2022).
Member of the Portuguese Society of Infectious Diseases and Clinical Microbiology (SPDIMC), Portuguese Association for the Clinical Study of AIDS (APECS) and Portuguese Study Group of Co-Infection (GEPCOI).
schedules and agreements
Terça-feira
15:00 - 17:00
Agreements
SAMS Quadros
ADM / IASFA
ADSE
AdvanceCare
Allianz
Associação Mutualista Montepio Geral
CGD - Cartão de Crédito
Ecco-Salva
Fundação Salvador Caetano
Future Healthcare
Grupo RAR
Imprensa Nacional - Casa da Moeda
Jerónimo Martins
Lusíadas 4US
Medicare
Médis
Médis CTT
Multicare
Ordem dos Advogados (CD Porto)
RNA Medical
SAD/GNR
SAMS SIB
SFJ - Sindicato dos Funcionários Judiciais
SSCGD
Staples
Universidade do Porto
KeepWells
Colaboradores Lusíadas (Seguro Saúde Médis)
Lusíadas Plan
SAMS Norte
ADSE, IASFA, SAD PSP, SAD GNR - Tabela especial sem convenção
Planicare