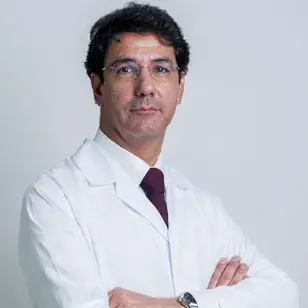 Dr. Paulo Cortes
Unit Coordinator of Medical Oncology — Hospital Lusíadas Lisboa
Hospital Lusíadas Lisboa:
Languages
Portuguese, English, French and Spanish
Areas of Interest
General Medical Oncology, in particular: breast cancer, gynecological tumors, malignant melanoma, genito-urinary tumors, colon and rectal cancer
Consultations
Oncology Consultation
Breve CV
Coordinator of Oncology at Hospital Lusíadas Lisboa (since 2009).
Vice President of the Ethics Committee at Hospital Lusíadas Lisboa (2013 - 2019).
President of Sociedade Portuguesa de Oncologia (Portuguese Society of Oncology) (2018-2019) and currently President of its Scientific board.
Chief Editor of Revista Portuguesa de Oncologia since 2019.
Senior Management Program for Healthcare Institutions (PADIS-AESE) (2017).
Representative for Portugal at ESMO (European Society of Medical Oncology) (2012 - 2018).
Lecturer at the Faculty of Medicine of Lisbon: of Oncobiology (until 2015) and of the Palliative Care Master's Degree (2002 - 2007).
Hospital Assistant (1995 - 2006) and Hospital Assistant Graduate (2006 - 2015) at the Oncology Department of Hospital de Santa Maria, Lisbon.
Degree of Consultant in Medical Oncology (2006).
Specialist in Medical Oncology by the National Medical Council (1996).
Clinical Oncology Unit, Guy's Hospital London, Research scholarship of the EEC (European Economic Community) and of the Imperial Cancer Research Fund (1991).
Degree in Medicine from the Faculty of Medicine of Lisbon (1986).
schedules and agreements
Agreements
SAMS Quadros
ADM / IASFA
ADSE
AdvanceCare
Allianz
CGD - Cartão de Crédito
Ecco-Salva
Future Healthcare
Grupo RAR
Jerónimo Martins
Lusíadas 4US
Medicare
Médis
Médis CTT
Multicare
Multicare - ACS
RNA Medical
SAD/GNR
SAD/PSP
SAMS SIB
Sãvida
SFJ - Sindicato dos Funcionários Judiciais
SSCGD
Staples
Universidade do Porto
KeepWells
Colaboradores Lusíadas (Seguro Saúde Médis)
Lusíadas Plan
SAMS Norte
Medical Port
ADSE, IASFA, SAD PSP, SAD GNR - Tabela especial sem convenção