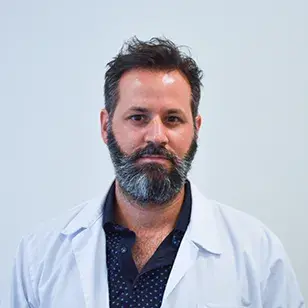 Dr. Pedro Amorim
Hospital Lusíadas Lisboa:
Hospital Lusíadas Albufeira:
Languages
Portuguese, French, English and Spanish
Areas of Interest
Intravenous surgery of varicose veins; Sclerotherapy of varicose veins; Leg ulcer; Diabetic foot; Direct arterial and endovascular surgery (carotid, aortic and peripheral aneurysms, limb ischemia); Acute and chronic deep venous recanalization; Vascular malformations; Access surgery for hemodialysis
Consultations
Vascular Surgery Consultation
Breve CV
Degree in Medicine from FML, University of Lisbon (2000 - 2006).
Specialist in Angiology and Vascular Surgery by the National Medical Council (2014).
Hospital Assistant in Angiology and Vascular Surgery at Hospital Egas Moniz (CHLO) in Lisbon.

schedules and agreements
Hospital Lusíadas Lisboa
Hospital Lusíadas Albufeira
Clínica Lusíadas Faro
Hospital Lusíadas Lisboa

Hospital Lusíadas Albufeira

Clínica Lusíadas Faro
Segunda-feira
13:00 - 18:00
Terça-feira
12:00 - 18:00
Quarta-feira
13:00 - 18:00
Agreements
SAMS Quadros
ADM / IASFA
ADSE
AdvanceCare
Allianz
CGD - Cartão de Crédito
Ecco-Salva
Future Healthcare
Grupo RAR
Jerónimo Martins
Lusíadas 4US
Medicare
Médis
Médis CTT
Multicare
Multicare - ACS
RNA Medical
SAD/GNR
SAD/PSP
SAMS SIB
Sãvida
SFJ - Sindicato dos Funcionários Judiciais
SSCGD
Staples
Universidade do Porto
KeepWells
Colaboradores Lusíadas (Seguro Saúde Médis)
Lusíadas Plan
SAMS Norte
ADSE, IASFA, SAD PSP, SAD GNR - Tabela especial sem convenção
Planicare