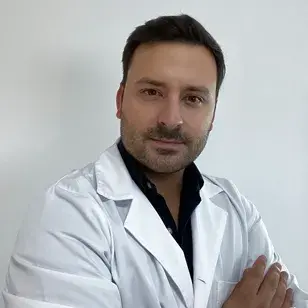 Dr. Pedro Silva Santos
Hospital Lusíadas Albufeira:
Languages
Portuguese, Spanish and English
Areas of Interest
COPD - Chronic Obstructive Pulmonary Disease; Bronchial Asthma; bronchiectasis; Community Acquired Pneumonia; Pulmonary Tuberculosis; Pleural effusion; Lung Neoplasm; Obstructive Sleep Apnea Syndrome (OSAS); Pulmonary thromboembolism; Interstitial lung diseases; Covid-19
Consultations
Pulmonology Consultation
Breve CV
Integrated Master's degree in Medicine from the Faculty of Medicine, University of Lisbon (2004 - 2010).
Specialty Training in Pneumology at Centro Hospitalar e Universitário de Coimbra (2012 - 2016).
Non-Invasive Ventilation Internship at Hospital General Universitario Morales Meseguer, in Murcia, Spain (2016).
Pneumology Hospital Assistant, Pneumology Department, Centro Hospitalar e Universitário de Coimbra (since 2018).
Member of Sociedade Portuguesa de Pneumologia (Portuguese Society of Pulmonology), Fundação Portuguesa do Pulmão (Portuguese Lung Foundation) and the European Respiratory Society.
Member of the Young Pulmonologists Division at Sociedade Portuguesa de Pneumologia (since 2016).
First author of 20 papers at scientific meetings, 6 of which at international meetings, and co-author of 18 papers, 6 of which also presented at international meetings.
Author or co-author of 11 articles in peer-reviewed indexed journals, all with impact factor.
Author of chapter #16 entitled Physiology Interactions of High Flow Nasal Cannula Therapy in Applied Physiology in Noninvasive Mechanical Ventilation.
Author of chapter #6, entitled Nasal High Flow Oxygen. Technology and devices in the book Respiratory Care in Non Invasive Mechanical Ventilatory Support: Principles and Practice.
Co-author of two chapters, #1 entitled Spontaneous Breathing. Physiology and #11 with the title Dyspnea During Noninvasive Ventilation Implications for Respiratory Function, from the book Pulmonary Function Measurement in Noninvasive Ventilatory Support.
Participated in screening activities for respiratory diseases in the community (2016).
schedules and agreements
Hospital Lusíadas Albufeira
Hospital Lusíadas Albufeira
Agreements
SAMS Quadros
AdvanceCare
Allianz
Associação Mutualista Montepio Geral
CGD - Cartão de Crédito
Ecco-Salva
Future Healthcare
Jerónimo Martins
Lusíadas 4US
Medicare
Multicare
RNA Medical
SAMS SIB
Sãvida
SFJ - Sindicato dos Funcionários Judiciais
Staples
Universidade do Porto
KeepWells
Colaboradores Lusíadas (Seguro Saúde Médis)
Lusíadas Plan
SAMS Norte
ARS (SNS - Serviço Nacional de Saúde)