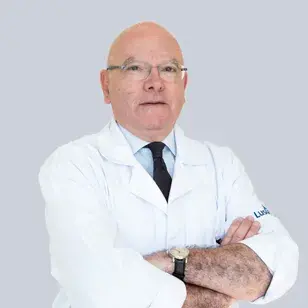 Dr. Pereira Albino
Unit Coordinator of Vascular Surgery — Hospital Lusíadas Lisboa
Hospital Lusíadas Lisboa:
Languages
Portuguese, English and French
Areas of Interest
Surgery of varicose veins by laser and radiofrequency; Sclerotherapy of varicose veins, namely with foam; Leg ulcer; Diabetic foot; Open arterial and endovascular surgery of carotid arteries, aortic aneurysms and peripheral arterial disease; Deep vein thrombosis (when acute, and with chronic repercussions); Vascular malformations and Tumors; Lymphedema
Consultations
Vascular Surgery Consultation
Breve CV
Degree in Medicine from Nova Medical School, Universidade Nova de Lisboa.
Head of Department as per the hospital career - Hospital de Santa Marta (Assistant Senior Graduate).
Director of the Vascular Surgery Department at Hospital Pulido Valente - CHLN.
schedules and agreements
Agreements
SAMS Quadros
ADM / IASFA
ADSE
AdvanceCare
Allianz
CGD - Cartão de Crédito
Ecco-Salva
Future Healthcare
Grupo RAR
Jerónimo Martins
Lusíadas 4US
Medicare
Médis
Médis CTT
Multicare
Multicare - ACS
RNA Medical
SAD/GNR
SAD/PSP
SAMS SIB
Sãvida
SFJ - Sindicato dos Funcionários Judiciais
SSCGD
Staples
Universidade do Porto
KeepWells
Colaboradores Lusíadas (Seguro Saúde Médis)
Lusíadas Plan
SAMS Norte
Medical Port