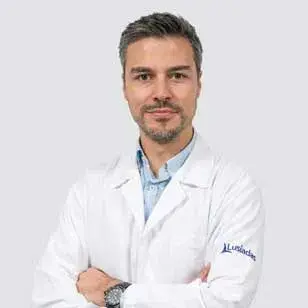 Dr. Ricardo Bastos
Languages
Portuguese, English and Spanish
Areas of Interest
Glaucoma (medical and surgical treatment); Cataract and Refractive Surgery (correction of myopia or nearsightedness, astigmatism, hyperopia and presbyopia); LASER in diseases of the retina and glaucoma; General Ophthalmology
Consultations
Ophthalmology Consultation
Breve CV
Specialty Training residency in Ophthalmology at Centro Hospitalar de S. João (2010 - 2014).
Fellowship in Glaucoma at IOBA, Valladolid, Spain (2013).
Coordinator of the Portuguese Group of Ergophthalmology since January 2019 (Sociedade Portuguesa de Oftalmologia / Portuguese Society of Ophthalmology).
Several publications in indexed international journals and in national journals (as first author and co-author).
Assiduous presentations at national and international congresses of the Specialty (as first author and co-author).
schedules and agreements
Hospital Lusíadas Porto
Clínica Lusíadas Gaia
Hospital Lusíadas Braga
Hospital Lusíadas Porto

Clínica Lusíadas Gaia

Hospital Lusíadas Braga
Agreements
SAMS Quadros
ADM / IASFA
ADSE
AdvanceCare
Allianz
Associação Mutualista Montepio Geral
CGD - Cartão de Crédito
Ecco-Salva
Fundação Salvador Caetano
Future Healthcare
Grupo RAR
Imprensa Nacional - Casa da Moeda
Jerónimo Martins
Lusíadas 4US
Medicare
Médis
Médis CTT
Multicare
Ordem dos Advogados (CD Porto)
RNA Medical
SAD/GNR
SAD/PSP
SAMS SIB
Sãvida
SFJ - Sindicato dos Funcionários Judiciais
SSCGD
Staples
Universidade do Porto
KeepWells
Colaboradores Lusíadas (Seguro Saúde Médis)
Lusíadas Plan
SAMS Norte
ADSE, IASFA, SAD PSP, SAD GNR - Tabela especial sem convenção
Agreements
SAMS Quadros
ADM / IASFA
ADSE
AdvanceCare
Allianz
Associação Mutualista Montepio Geral
CGD - Cartão de Crédito
Ecco-Salva
Fundação Salvador Caetano
Future Healthcare
Grupo RAR
Imprensa Nacional - Casa da Moeda
Jerónimo Martins
Lusíadas 4US
Medicare
Médis
Médis CTT
Multicare
Multicare - ACS
Ordem dos Advogados (CD Porto)
RNA Medical
SAD/GNR
SAD/PSP
SAMS SIB
Sãvida
SFJ - Sindicato dos Funcionários Judiciais
SSCGD
Staples
Universidade do Porto
KeepWells
Colaboradores Lusíadas (Seguro Saúde Médis)
Lusíadas Plan
SAMS Norte
ADSE, IASFA, SAD PSP, SAD GNR - Tabela especial sem convenção
Agreements
SAMS Quadros
ADM / IASFA
ADSE
AdvanceCare
Allianz
Ecco-Salva
Future Healthcare
Jerónimo Martins
Lusíadas 4US
Medicare
Médis
Médis CTT
Multicare
Multicare - ACS
RNA Medical
SAD/GNR
SAD/PSP
SAMS SIB
Sãvida
SFJ - Sindicato dos Funcionários Judiciais
SSCGD
Staples
Universidade do Porto
KeepWells
Colaboradores Lusíadas (Seguro Saúde Médis)
Lusíadas Plan
SAMS Norte
ADSE, IASFA, SAD PSP, SAD GNR - Tabela especial sem convenção