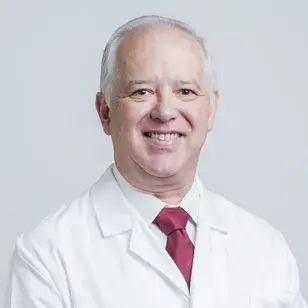 Dr. Rosmaninho Seabra
Languages
Portuguese, English, French and Spanish
Book
Videoconsultation
Areas of Interest
Vertigo and Balance Disorders
Consultations
Otorhinolaryngology Consultation, Vertigo Consultation, Otorhinolaryngology Consultation – Pediatric
Breve CV
Degree in Medicine from the Faculty of Medicine, University of Porto in 1981.
Otorhinolaryngologist (ENT Specialist) by the National Medical Council since 1990.
ENT Specialty Consultant at C.H.V.N. Gaia from 1996 to 2005.
Founder, member of several departments and President of Associação Portuguesa de Otoneurologia (ENT Portuguese Association) from 2010 to 2013.
NeuroOtology and Equilibrimetric Society (N.E.S.) board member.
Editor of two international journals dedicated to the study of vertigo and tinnitus ("International Tinnitus Journal" and "NeuroOtology Newsletter").
Member of several national and international scientific societies.
Author of several publications and co-author of some specialty books.
Invited Assistant, part-time, at Escola Superior de Tecnologias da Saúde, University of Porto - Audiology Course.​
schedules and agreements
Hospital Lusíadas Porto
Clínica Lusíadas Gaia
Hospital Lusíadas Porto

Clínica Lusíadas Gaia
Agreements
SAMS Quadros
ADM / IASFA
ADSE
AdvanceCare
Allianz
Associação Mutualista Montepio Geral
CGD - Cartão de Crédito
Ecco-Salva
Fundação Salvador Caetano
Future Healthcare
Grupo RAR
Imprensa Nacional - Casa da Moeda
Jerónimo Martins
Lusíadas 4US
Medicare
Médis
Médis CTT
Multicare
Multicare - ACS
Ordem dos Advogados (CD Porto)
RNA Medical
SAD/GNR
SAD/PSP
SAMS SIB
Sãvida
SFJ - Sindicato dos Funcionários Judiciais
SSCGD
Staples
Universidade do Porto
Colaboradores Lusíadas (Seguro Saúde Médis)
Lusíadas Plan
SAMS Norte
ADSE, IASFA, SAD PSP, SAD GNR - Tabela especial sem convenção
KeepWells
Agreements
SAMS Quadros
ADM / IASFA
ADSE
AdvanceCare
Allianz
Associação Mutualista Montepio Geral
CGD - Cartão de Crédito
Ecco-Salva
Fundação Salvador Caetano
Future Healthcare
Grupo RAR
Imprensa Nacional - Casa da Moeda
Jerónimo Martins
Lusíadas 4US
Medicare
Médis
Médis CTT
Multicare
Multicare - ACS
Ordem dos Advogados (CD Porto)
RNA Medical
SAD/GNR
SAD/PSP
SAMS SIB
Sãvida
SFJ - Sindicato dos Funcionários Judiciais
SSCGD
Staples
Universidade do Porto
Colaboradores Lusíadas (Seguro Saúde Médis)
Lusíadas Plan
SAMS Norte
ADSE, IASFA, SAD PSP, SAD GNR - Tabela especial sem convenção
KeepWells