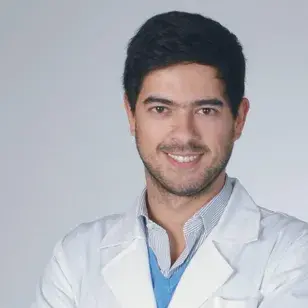 Dr. Rui Sales Marques
Hospital Lusíadas Albufeira:
Languages
Portuguese, English, French and Spanish
Areas of Interest
Sports Medicine; Ultrasound Guided Techniques in Pain Management
Consultations
Physical Medicine and Rehabilitation Consultation / Physiatrics, Pediatric Rehabilitation Consultation
Breve CV
Integrated Master's degree in Medicine - Instituto de Ciências Biomédicas Abel Salazar- Porto.
Specialist in Physical Medicine and Rehabilitation (PM&R) - Centro Hospitalar Universitário do Algarve (CHUA).
Postgraduate course in Sports Medicine – Faculty of Medicine University of Porto.
Master's degree in Musculoskeletal Ultrasound and Ultrasound guided Interventionism - CEU Fundación San Pablo Andalucia.
Physician of team A at Sporting Clube Farense – 1st Football League.
Physician in charge of the National Padel Teams - Portuguese Padel Federation.
Invited Lecturer of the Integrated Master's Degree in Medicine University of Algarve (UALG).
Co-Responsible for the Ultrasound guided Intervention Consultation at CHUA.
Invited Trainer in Ultrasound guided Interventionism at Sociedade Portuguesa de Medicina Física e de Reabilitação (Portuguese Society of Physical Medicine and Rehabilitation), Sociedade Portuguesa de Medicina Desportiva - SPMD (Portuguese Sports Medicine Society), Euro-Musculus, Sociedade Portuguesa de Anestesiologia - (SPA )(Portuguese Society of Anesthesiology) and at Clube de Anestesia Regional - CAR (Regional Anesthesia Club).
Member of the Ultrasound Interest Group in PM&R at SPMFR.
schedules and agreements
Hospital Lusíadas Albufeira
Clínica Lusíadas Faro
Hospital Lusíadas Albufeira

Clínica Lusíadas Faro
Agreements
SAMS Quadros
AdvanceCare
Allianz
Associação Mutualista Montepio Geral
CGD - Cartão de Crédito
Ecco-Salva
Future Healthcare
Jerónimo Martins
Lusíadas 4US
Medicare
Médis
Médis CTT
Multicare
RNA Medical
SAMS SIB
Sãvida
SFJ - Sindicato dos Funcionários Judiciais
SSCGD
Staples
Universidade do Porto
KeepWells
Colaboradores Lusíadas (Seguro Saúde Médis)
Lusíadas Plan
SAMS Norte
ARS (SNS - Serviço Nacional de Saúde)
Agreements
SAMS Quadros
AdvanceCare
Allianz
Associação Mutualista Montepio Geral
CGD - Cartão de Crédito
Ecco-Salva
Future Healthcare
Jerónimo Martins
Lusíadas 4US
Medicare
Médis
Multicare
RNA Medical
SAMS SIB
Sãvida
SFJ - Sindicato dos Funcionários Judiciais
SSCGD
Staples
Universidade do Porto
KeepWells
Colaboradores Lusíadas (Seguro Saúde Médis)
Lusíadas Plan
SAMS Norte