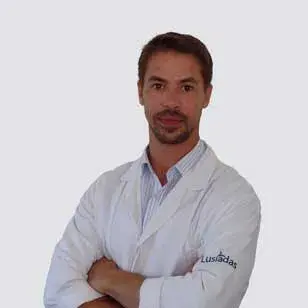 Dr. Vítor Brás Silva
Unit Coordinator of Physical and Rehabilitation Medicine
Hospital Lusíadas Lisboa:
Clínica Lusíadas Oriente:
Languages
Portuguese, English and Spanish
Areas of Interest
Musculoskeletal rehabilitation; Echogenic intervention in musculoskeletal pathology (echogenic infiltrations, platelet rich plasma, viscosupplementation); Mesotherapy; Sports rehabilitation; Exercise prescription in general population and special populations (obesity/bariatric surgery); Osteoporosis; Prevention of falls; Neurological rehabilitation
Consultations
Physical Medicine and Rehabilitation Consultation / Physiatrics
Breve CV
Integrated Masters in Medicine from the Faculty of Medical Sciences of the New University of Lisbon.
Specialist in Physical Medicine and Rehabilitation by the Order of Physicians.
Post-graduation in Sports Medicine by the Portuguese Society of Sports Medicine.
Hospital Assistant at the Centro Hospitalar Universitário de Lisboa Central until 2022.
schedules and agreements
Hospital Lusíadas Lisboa
Clínica Lusíadas Oriente
Clínica Lusíadas Almada
Hospital Lusíadas Lisboa

Clínica Lusíadas Oriente

Clínica Lusíadas Almada
Agreements
SAMS Quadros
AdvanceCare
Allianz
CGD - Cartão de Crédito
Ecco-Salva
Future Healthcare
Grupo RAR
Jerónimo Martins
Lusíadas 4US
Medicare
Médis
Multicare
RNA Medical
SAMS SIB
SFJ - Sindicato dos Funcionários Judiciais
SSCGD
Staples
Universidade do Porto
KeepWells
Colaboradores Lusíadas (Seguro Saúde Médis)
Lusíadas Plan
SAMS Norte
ADSE, IASFA, SAD PSP, SAD GNR - Tabela especial sem convenção
Agreements
SAMS Quadros
Particular
AdvanceCare
Allianz
Ecco-Salva
Future Healthcare
Jerónimo Martins
Lusíadas 4US
Medicare
Médis
Médis CTT
Multicare
RNA Medical
SAMS SIB
SFJ - Sindicato dos Funcionários Judiciais
SSCGD
Staples
KeepWells
Colaboradores Lusíadas (Seguro Saúde Médis)
Lusíadas Plan
ADSE, IASFA, SAD PSP, SAD GNR - Tabela especial sem convenção
Agreements
SAMS Quadros
AdvanceCare
Allianz
CGD - Cartão de Crédito
Ecco-Salva
Future Healthcare
Grupo RAR
Jerónimo Martins
Lusíadas 4US
Medicare
RNA Medical
SAMS SIB
SFJ - Sindicato dos Funcionários Judiciais
SSCGD
Staples
Universidade do Porto
KeepWells
Colaboradores Lusíadas (Seguro Saúde Médis)
Lusíadas Plan
SAMS Norte
ADSE, IASFA, SAD PSP, SAD GNR - Tabela especial sem convenção