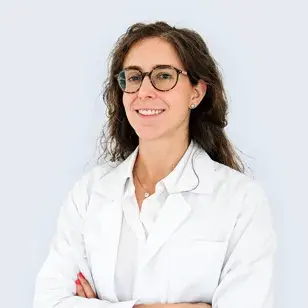 Areas of Interest
Movement disorders (tremor, Parkinson's disease, gait alteration); Functional Neurological Diseases; Headache; Botulinum toxin treatment in neurological diseases; Cerebral Vascular Disease (CVA); Epilepsy; Cognitive deterioration (Dementia Syndromes)
Consultations
Neurology Consultation, Migraine and Headache Consultation, Tremor and Parkinson's Disease Consultation
Breve CV
Integrated Masters in Medicine at the University of Minho Medical School (2008 - 2014).
Common Year Internship at Centro Hospitalar do Algarve (2015).
Internship in Neurology at the Centro Hospitalar Universitário do Algarve (2016 - 2021).
Movement Disorders clinical fellowship at Hospital Clinic Barcelona (2020).
Guest Assistant at the Department of Biomedical Sciences and Medicine at the University of Algarve (since 2016).
Medical Expert at the Pharmacovigilance Unit of the Algarve and Baixo Alentejo (since 2018).
Hospital Assistant in Neurology at the University Hospital Center of Algarve (since 2021).
schedules and agreements
Hospital Lusíadas Albufeira
Clínica Lusíadas Faro
Hospital Lusíadas Albufeira

Clínica Lusíadas Faro
Agreements
SAMS Quadros
AdvanceCare
Allianz
Associação Mutualista Montepio Geral
CGD - Cartão de Crédito
Ecco-Salva
Future Healthcare
Jerónimo Martins
Lusíadas 4US
Medicare
Médis
Médis CTT
Multicare
RNA Medical
SAMS SIB
Sãvida
SFJ - Sindicato dos Funcionários Judiciais
SSCGD
Staples
Universidade do Porto
KeepWells
Colaboradores Lusíadas (Seguro Saúde Médis)
Lusíadas Plan
SAMS Norte
ARS (SNS - Serviço Nacional de Saúde)
Agreements
SAMS Quadros
AdvanceCare
Allianz
Associação Mutualista Montepio Geral
CGD - Cartão de Crédito
Ecco-Salva
Future Healthcare
Jerónimo Martins
Lusíadas 4US
Medicare
Médis
Médis CTT
Multicare
RNA Medical
SAMS SIB
Sãvida
SFJ - Sindicato dos Funcionários Judiciais
SSCGD
Staples
Universidade do Porto
KeepWells
Colaboradores Lusíadas (Seguro Saúde Médis)
Lusíadas Plan
SAMS Norte