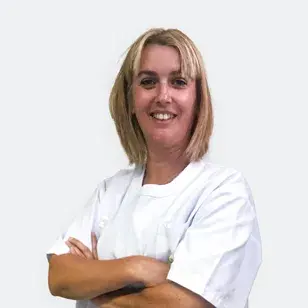 Dra. Ana Isabel Figueiredo
Clínica Lusíadas Forum Algarve:
Hospital Lusíadas Albufeira:
Areas of Interest
Scaling; Fissure sealants; Prevention area
Consultations
Oral Hygiene
Breve CV
Degree in Oral Hygiene from the Faculty of Dental Medicine, University of Lisbon (FMDUL).
Post graduation in Baby and Family Science Improvement.
Theoretical/practical course in Implantology Malo Clinic Education.
Theoretical/practical course in Periodontology at Malo Clinic Education.
schedules and agreements
Clínica Lusíadas Forum Algarve
Hospital Lusíadas Albufeira
Clínica Lusíadas Forum Algarve

Hospital Lusíadas Albufeira
Agreements
SAMS Quadros
AdvanceCare
Associação Mutualista Montepio Geral
CGD - Cartão de Crédito
Ecco-Salva
Future Healthcare
Jerónimo Martins
Lusíadas 4US
Medicare
Multicare
RNA Medical
SAMS SIB
Sãvida
SFJ - Sindicato dos Funcionários Judiciais
SSCGD
Staples
Universidade do Porto
KeepWells
Colaboradores Lusíadas (Seguro Saúde Médis)
Lusíadas Plan
SAMS Norte
ARS (SNS - Serviço Nacional de Saúde)
Agreements
SAMS Quadros
AdvanceCare
Associação Mutualista Montepio Geral
CGD - Cartão de Crédito
Ecco-Salva
Future Healthcare
Jerónimo Martins
Lusíadas 4US
Medicare
Multicare
RNA Medical
SAMS SIB
Sãvida
SFJ - Sindicato dos Funcionários Judiciais
SSCGD
Staples
Universidade do Porto
KeepWells
Colaboradores Lusíadas (Seguro Saúde Médis)
Lusíadas Plan
SAMS Norte
ARS (SNS - Serviço Nacional de Saúde)