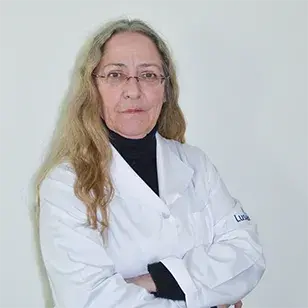 Dra. Ana Leite
Hospital Lusíadas Amadora:
Clínica Lusíadas Oriente:
Languages
Portuguese, Spanish, French, English and Italian
Areas of Interest
Contactology; Cataract and Conjunctival Surgery
Consultations
Ophthalmology Consultation, Ophthalmology Consultation – Pediatric
Breve CV
Degree in Medicine (1984).
Specialist in Ophthalmology at the Centro Hospitalar Lisboa Norte (1992).
Specialist at the main Military Hospital (1996 - 2009).
Specialist at Lusíadas Amadora Hospital and Clínica Lusíadas Oriente (since 1998).
Specialist at the Red Cross Hospital (2007 - 2011).
Specialist at Beatriz Ângelo Hospital (2012 - 2016).
schedules and agreements
Hospital Lusíadas Amadora
Clínica Lusíadas Oriente
Hospital Lusíadas Amadora

Clínica Lusíadas Oriente
Segunda-feira
08:45 - 11:45
Quarta-feira
08:45 - 13:00
Segunda-feira
12:00 - 15:00
Quinta-feira
09:00 - 15:00
Agreements
SAMS Quadros
Particular
ADM / IASFA
ADSE
AdvanceCare
Allianz
Ecco-Salva
Fundação Salvador Caetano
Future Healthcare
Imprensa Nacional - Casa da Moeda
Jerónimo Martins
Lusíadas 4US
Medicare
Médis
Médis CTT
Multicare
Multicare - ACS
RNA Medical
SAD/GNR
SAD/PSP
SAMS SIB
Sãvida
SFJ - Sindicato dos Funcionários Judiciais
SSCGD
Staples
KeepWells
Colaboradores Lusíadas (Seguro Saúde Médis)
Lusíadas Plan
SAMS Norte
ADSE, IASFA, SAD PSP, SAD GNR - Tabela especial sem convenção
Planicare
Agreements
SAMS Quadros
Particular
ADM / IASFA
ADSE
AdvanceCare
Allianz
Ecco-Salva
Fundação Salvador Caetano
Future Healthcare
Imprensa Nacional - Casa da Moeda
Jerónimo Martins
Lusíadas 4US
Medicare
Médis
Médis CTT
Multicare
Multicare - ACS
RNA Medical
SAD/GNR
SAD/PSP
SAMS SIB
Sãvida
SFJ - Sindicato dos Funcionários Judiciais
SSCGD
Staples
KeepWells
Colaboradores Lusíadas (Seguro Saúde Médis)
Lusíadas Plan
SAMS Norte
ADSE, IASFA, SAD PSP, SAD GNR - Tabela especial sem convenção
Planicare