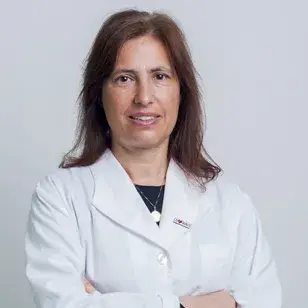 Dra. Isabel Blanco Nobre
Unit Coordinator of Medical Imaging — Hospital Lusíadas Lisboa
Hospital Lusíadas Lisboa:
Languages
Portuguese and English
Areas of Interest
Thoracic Radiology, Vascular Radiology, Vascular and Non-Vascular Intervention
Breve CV
Skilled in different techniques, namely Conventional Radiology, Ultrasound, CT scan,NMR, vascular and non-vascular intervention, in all areas of the body, except the breast.
General residency at Hospital São Francisco Xavier, Lisbon.
Complementary Radiology residency and final exam (by the hospital and the National Medical Council) at Hospital de Santa Marta.
Applied under public procedure for the title of Assistant at Hospital de Santa Marta.