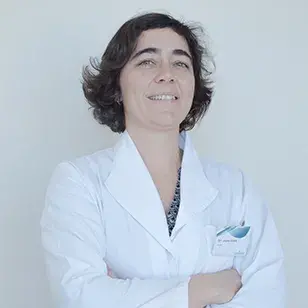 Dra. Joana Costa
Hospital Lusíadas Lisboa:
Languages
Portuguese, English and French
Book
Videoconsultation
Areas of Interest
Diabetes mellitus (type 1, type 2) and Therapeutic Education in Pregnancy (gestational diabetes and endocrine disorders during pregnancy); Thyroid Diseases; Neuroendocrine Tumors; Obesity and surgical treatment of obesity
Consultations
Endocrinology Consultation, Endocrinology Consultation – Diabetes, Endocrinology Consultation – Pregnancy
Breve CV
Degree in Medicine from Faculdade de Ciências Médicas (1999).
Title of Assistant in Endocrinology-Nutrition (2007).
Postgraduate course in Epidemiology (2007 - 2008).
Title of Consultant in Endocrinology-Nutrition (2015).
schedules and agreements
Agreements
SAMS Quadros
AdvanceCare
Allianz
CGD - Cartão de Crédito
Ecco-Salva
Future Healthcare
Grupo RAR
Jerónimo Martins
Lusíadas 4US
Medicare
Médis
Multicare
RNA Medical
SAMS SIB
Sãvida
SFJ - Sindicato dos Funcionários Judiciais
SSCGD
Staples
Universidade do Porto
KeepWells
Colaboradores Lusíadas (Seguro Saúde Médis)
Lusíadas Plan
SAMS Norte
Medical Port
ADSE, IASFA, SAD PSP, SAD GNR - Tabela especial sem convenção