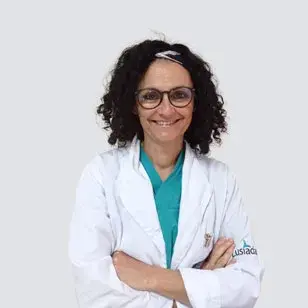 Dra. Manuela Mira Coelho
Languages
Portuguese, French and English
Areas of Interest
Pelvic Floor Disorders, namely situations of pelvic pain, various forms of urinary incontinence, dysfunctional urination, pelvic organ prolapses, fecal incontinence, defecation obstruction. Multiplechannel Urodynamics exams, namely: Cystomanometry, Pressure/flow study, Urethral pressure profile, Valsalva leak point pressure, Sphincter electromyography, Flowmetry. Fundamental exam in the study of stress, urge or mixed urinary incontinence, preoperative study of incontinence surgery, neuro-urological injury in adults and children, urethral obstructive pathology or post-prostatectomy incontinence in men.
Consultations
Physical Medicine and Rehabilitation Consultation / Physiatrics
Breve CV
Degree in Medicine from the Faculty of Medicine, University of Porto.
Obtained the degree of specialist in Physical Medicine and Rehabilitation through a Single Qualification Examination - Hospital de São Marcos, Braga.
Coordinator of the Multidisciplinary Group consultation on Pelvic Floor at Hospital de Braga.
Head of the PM&R for the Urodynamics Laboratory at Hospital de Braga.
Responsible for the cystostomy consultation.
Assistant Graduate in Physical Medicine and Rehabilitation, staff at Hospital de São Marcos, currently Hospital de Braga EPE.
Practiced the Specialty in the various intervention areas of the Department: Inpatient care, General Outpatient Consultation in Physical Medicine and Rehabilitation, Urogynecological Rehabilitation Consultation, Cystostomy Consultation and Multidisciplinary Consultation of the Pelvic Floor.
Internal Consultation to support the Hospital's various Inpatient Departments, namely: Neurosurgery, Neurocritical care and Psychiatry from Jan/19 to date, Neurology, Neurosurgery and Neurocritical care from Jan/2010 to Dec/2018, Orthopedics Department between 2000 and 2009 Supervision of residents in Physical Medicine and Rehabilitation, General and Family Medicine, Gynecology-Obstetrics, Rheumatology and students of the 5th year of the Medicine course at the School of Health Sciences, University of Minho.
schedules and agreements
Agreements
SAMS Quadros
ADM / IASFA
ADSE
AdvanceCare
Allianz
Ecco-Salva
Future Healthcare
Jerónimo Martins
Lusíadas 4US
Medicare
Médis
Multicare
Multicare - ACS
RNA Medical
SAD/GNR
SAD/PSP
SAMS SIB
Sãvida
SFJ - Sindicato dos Funcionários Judiciais
SSCGD
Staples
Universidade do Porto
KeepWells
Colaboradores Lusíadas (Seguro Saúde Médis)
Lusíadas Plan
SAMS Norte
ADSE, IASFA, SAD PSP, SAD GNR - Tabela especial sem convenção