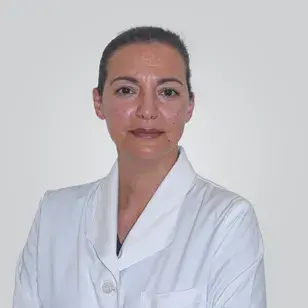 Dra. Patrícia Oliveira
Hospital Lusíadas Amadora:
Languages
Portuguese and English
Areas of Interest
Anesthesia for surgery; Anesthesia for pediatrics; Anesthesia in obstetrics; Anesthesia for cranioencephalic surgery; Anesthesia for arterial vascular surgery; Anesthesia for obesity surgery; Locoregional anesthesia; Ecoguided locoregional anesthesia; Out-of-block anesthesia / gastro
Breve CV
Degree in Medicine from the Faculty of Medicine, University of Coimbra (1994 - 2000).
Intern in general medical training in the Centro Hospitalar de Coimbra - Covões Hospital (2001 and 2002).
Intern of complementary training in Anesthesiology in Coimbra Hospital Center (2003 to 2007).
Medical crew member of the emergency and resuscitation medical vehicle of the Coimbra Hospital Centre (2005 - 2008).
Hospital Assistant at the Coimbra Hospital Center - Bissaya Barreto Maternity (2007).
Hospital Assistant at the Centro Hospitalar de Lisboa Ocidental (2007 - 2021).
Regularly worked as an anesthesiologist at Hospital de Santiago (Grupo Espírito Santo Saúde and later Luz Saúde) (2009 - 2022).
Hospital Assistant at Centro Hospitalar do Médio Tejo (2021 - 2022).
schedules and agreements
Hospital Lusíadas Amadora
Hospital Lusíadas Amadora