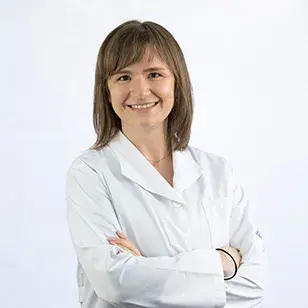 Dra. Raquel Oliveira
Languages
Portuguese and English
Book
Videoconsultation
Areas of Interest
Obesity/Overweight/Underweight; Type 1 and 2 Diabetes Mellitus (closely linked to Endocrinology); Dyslipidemia (elevated cholesterol, elevated triglycerides); Gastro Nutrition: Inflammatory Bowel Disease (Crohn's Disease, Ulcerative Colitis), Celiac Disease, Irritable Bowel Syndrome (namely low-Fodmap diet), Diarrhea, Constipation, Liver Diseases; Pediatric Nutrition namely childhood obesity, type 1 diabetes mellitus; Food in pregnancy
Consultations
Nutrition Consultation
Breve CV
Degree in Nutrition and Food Sciences from the Faculty of Nutrition and Food Sciences, University of Porto (FCNAUP).
Nutritionist at Hospital de Braga, E.P.E. regarding Outpatient Nutrition Consultations in Pediatrics, Endocrinology and Gastroenterology and Inpatient Nutrition – since November 2014.
Nutritionist for the Regional Health Administration of Viana do Castelo at 4 Health Centers in the region – from October 2004 to June 2006.
schedules and agreements
Agreements
SAMS Quadros
AdvanceCare
Allianz
Ecco-Salva
Future Healthcare
Jerónimo Martins
Lusíadas 4US
Medicare
Multicare
RNA Medical
Sãvida
SFJ - Sindicato dos Funcionários Judiciais
SSCGD
Staples
Universidade do Porto
KeepWells
Colaboradores Lusíadas (Seguro Saúde Médis)
Lusíadas Plan
SAMS Norte