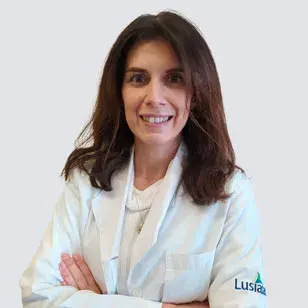 Dra. Rita Machado
Hospital Lusíadas Lisboa:
Languages
Portuguese, Spanish and English
Book
Videoconsultation
Areas of Interest
Adult Mental Health (Anxiety, Depression, Panic Attacks, Relationship Difficulties, Bipolar Disorder, Psychoses); Psychological Support in Infertility; Psychotherapy; Psychological Assessment; Medico-legal exams
Consultations
Psychology Consultation
Breve CV
Degree in Psychology from Instituto Superior de Psicologia Aplicada I.S.PA. (1997 - 2002).
Specialist in Clinical and Health Psychology by the Portuguese Psychologists Council.
Master's degree in Psychopathology from Universidad de Barcelona (2003 - 2004).
Theoretical Training in Psychoanalytic Psychotherapy at Associação Portuguesa de Psicoterapia Analítica - A.P.P.S.I. (Portuguese Association of Psychoanalytic Psychotherapy) (2007 - 2011).
Clinical Practice at the Psychiatry Department of Hospital Garcia de Orta (since 2007).
Private Clinical Practice - Mentalcare (2007 - 2017).
Private Clinical Practice - Clinical Psychology and Psychotherapy (since 2017).
Internships: Fundação Oriente, Barcelona (2003 - 2004); Hospital Dona Estefânia (2002 - 2003); Hospital Miguel Bombarda (2001 - 2002).