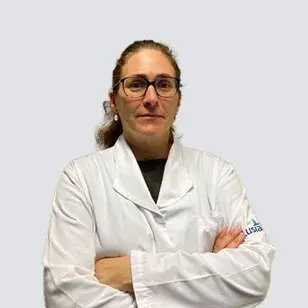 Dra. Sandra Bitoque
Hospital Lusíadas Lisboa:
Areas of Interest
Facial and maxillary trauma, Dentofacial dysmorphosis (prognathism, retrognathism, open bite); Oral pathology and surgery (jaw cysts and tumors, impacted teeth); Salivary gland pathology and surgery; Carcinomas of the skin, face and neck; Oral carcinoma
Consultations
Maxillofacial Surgery Consultation
Breve CV
Degree in Medicine in 2006.
Specialty in Maxillofacial Surgery, obtained in 2014.
Hospital Assistant of Head and Neck Surgery at IPO (Portuguese Institute of Oncology) in Lisbon since 2014.

schedules and agreements
Agreements
SAMS Quadros
ADM / IASFA
ADSE
AdvanceCare
Allianz
CGD - Cartão de Crédito
Ecco-Salva
Future Healthcare
Grupo RAR
Jerónimo Martins
Lusíadas 4US
Medicare
Médis
Médis CTT
Multicare
Multicare - ACS
RNA Medical
SAD/GNR
SAD/PSP
SAMS SIB
Sãvida
SFJ - Sindicato dos Funcionários Judiciais
SSCGD
Staples
Universidade do Porto
KeepWells
Colaboradores Lusíadas (Seguro Saúde Médis)
Lusíadas Plan
SAMS Norte
ADSE, IASFA, SAD PSP, SAD GNR - Tabela especial sem convenção