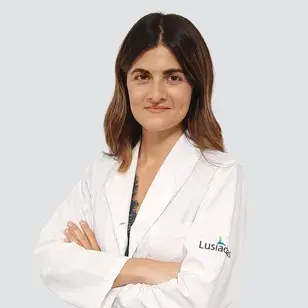 Dra. Vera Fernandes
Languages
Portuguese and English
Areas of Interest
Neuropsychological assessment; Cognitive disorders; Neurodegenerative diseases; Dementia; Acquired brain injury (stroke, TBI)
Consultations
Psychology Consultation with Neuropsychological Assessment, Psychology Consultation - Cognitive Stimulation
Breve CV
Responsible for the neuropsychological assessment at Hospital de Braga, EPE (2018 - to date).
Rater of clinical trials for Alzheimer's disease at 2CA Centro Clínico Académico, Braga (2018 - to date).
Neuropsychological assessment and rehabilitation consultation in the Neuropsychology department of the Faculty of Psychology and Educational Sciences, University of Porto (2017 - 2019).
Coordinator of the Braga Peer Group Support Association for Traumatic Brain Injury survivors and their Families (2017 - 2018).