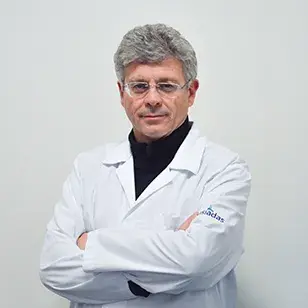 Prof. Doctor Paulo Valejo Coelho
Coordenador de Maxillofacial Surgery: Hospital Lusíadas Lisboa
Hospital Lusíadas Lisboa:
Languages
Portuguese and English
Videoconsultation
Areas of Interest
Adults and Children: Congenital and acquired facial deformities; Trauma of the Face, Temporomandibular joint; Salivary glands; Head and Neck Cysts and Tumors: Oral and maxillofacial Pathology
Consultations
Maxillofacial Surgery Consultation
Breve CV
Specialist in Maxillofacial Surgery and Stomatology.
Fellow of the European Board for Oro-Maxillo-Facial Surgery.
Hospital Assistant Senior Graduate in Maxillofacial Surgery.
Director of the Maxillofacial Surgery Service at CHULC.
Associate Professor with Aggregation, Faculty of Medical Sciences, Universidade Nova de Lisboa​.
schedules and agreements
Segunda-feira
14:30 - 17:10
Terça-feira
14:30 - 18:00
Agreements
SAMS Quadros
ADM / IASFA
ADSE
AdvanceCare
Allianz
CGD - Cartão de Crédito
Ecco-Salva
Future Healthcare
Grupo RAR
Jerónimo Martins
Lusíadas 4US
Medicare
Médis
Médis CTT
Multicare
Multicare - ACS
RNA Medical
SAD/GNR
SAD/PSP
SAMS SIB
Sãvida
SFJ - Sindicato dos Funcionários Judiciais
SSCGD
Staples
Universidade do Porto
KeepWells
Colaboradores Lusíadas (Seguro Saúde Médis)
Lusíadas Plan
SAMS Norte
ADSE, IASFA, SAD PSP, SAD GNR - Tabela especial sem convenção
Planicare