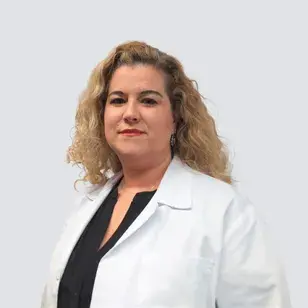 Prof. Dra. Adelaide Costa
Languages
Portuguese, English, French and Spanish
Videoconsultation
Areas of Interest
General Psychiatry; Mood Disorders (Depression, Bipolar Disorder, others); Anxiety Disorders (Panic Disorder, Phobias, Generalized Anxiety Disorder, others); Obsessive-Compulsive Disorder; Psychosis; Sleep Disorders; Burnout Syndrome; Liaison Psychiatry; Psychosomatic Illness; Psycho-oncology (Oncology Psychiatry); Palliative Care Psychiatry; Chronic Pain Psychiatry; Perinatal Psychiatry (pregnancy and postpartum); Neuropsychiatry; Elderly Psychiatry (Gerontopsychiatry): Depression in the patient and caregivers, dementias and other pathologies.
Consultations
Psychiatry Consultation
Breve CV
Graduated in Medicine at the Faculty of Medicine of the University of Porto - FMUP (2000).
Post-Graduation in Psychiatry and Mental Health - FMUP (2005 - 2006).
Specialization in Psych-Oncology, Psychiatry-Pain and Psychiatry-Palliative Care at Jules Bordet Institute, Brussels (2007).
Specialist in Psychiatry (2008).
University lecturer of Psychiatry (since 2010) and Bioethics/Neuroethics (since 2016).
PhD in Bioethics from the Catholic University of Portugal (2016).
Consultant in Psychiatry (2019).
Graduate Hospital Assistant in Psychiatry at the University Hospital Center of São João (until 2022).
Collaborator at the Institute for Health Research and Innovation at the University of Porto (i3S).
Competence in the Evaluation of Injury in the Person (Portuguese Medical Association - 2022).
Author and co-author of several scientific papers (communications and publications) at national and international level.
Member of the Scientific Committee and Review of scientific journals (national and international).
schedules and agreements
Quarta-feira
09:20 - 13:20
Agreements
SAMS Quadros
AdvanceCare
Allianz
Associação Mutualista Montepio Geral
CGD - Cartão de Crédito
Ecco-Salva
Fundação Salvador Caetano
Future Healthcare
Grupo RAR
Imprensa Nacional - Casa da Moeda
Jerónimo Martins
Lusíadas 4US
Medicare
Médis
Multicare
Ordem dos Advogados (CD Porto)
RNA Medical
SAMS SIB
SFJ - Sindicato dos Funcionários Judiciais
Staples
Universidade do Porto
Colaboradores Lusíadas (Seguro Saúde Médis)
Lusíadas Plan
SAMS Norte
KeepWells
Planicare