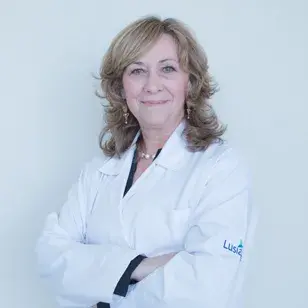 Therapist Ana Isabel Ferreira
Hospital Lusíadas Lisboa:
Areas of Interest
Speech Therapist
Consultations
Speech Therapy
Breve CV
University degree in Speech Therapy (1985).
University degree in Modern Languages and Literatures – Portuguese/English Studies (2005).
Master's in Health Communication (2010).
PhD student in Public Health (2011).
President of Associação Portuguesa de Terapeutas da Fala (Portuguese Association of Speech Therapists) (1985 - 1987).
Professional activity has essentially taken place in four areas: clinical, teaching, training and consultancy regarding matters of Voice and Communication and Voice Pathology.
schedules and agreements
Agreements
SAMS Quadros
AdvanceCare
Allianz
CGD - Cartão de Crédito
Ecco-Salva
Future Healthcare
Grupo RAR
Jerónimo Martins
Lusíadas 4US
Medicare
Médis
Multicare
RNA Medical
SAMS SIB
SFJ - Sindicato dos Funcionários Judiciais
SSCGD
Staples
Universidade do Porto
KeepWells
Colaboradores Lusíadas (Seguro Saúde Médis)
Lusíadas Plan
SAMS Norte
Medical Port
ADSE, IASFA, SAD PSP, SAD GNR - Tabela especial sem convenção