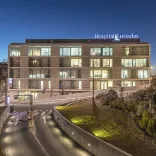 Lisboa
The Lusiadas flagship Hospital. State-of-the-art technology together with an experienced and robust clinical team, conveniently located in central Lisbon.
Albufeira​​
Hospital Lusíadas Albufeira is a unit characterized by modernity and functionality, providing clinical services in the areas of medicine and surgery, as well as a hospitalization protocol similar to that of an outpatient center.
Faro
Clínica Lusíadas Faro provides specialty medicine consultations and support diagnostic and treatment services, ensuring quality and comfort of services for our clients. Good accessibility and easy parking.