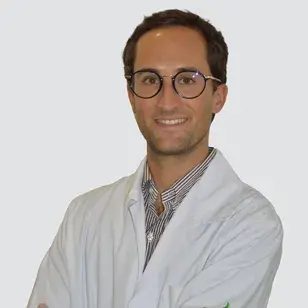 Dr. Afonso Nunes Ferreira
Hospital Lusíadas Amadora:
Hospital Lusíadas Albufeira:
Languages
Portuguese and English
Areas of Interest
Clinical Cardiology; Arrhythmology; Auricular Fibrillation; Pacing; Catheter Ablation; Sports Cardiology
Consultations
Cardiology Consultation – Clinical, Sports Cardiology Consultation, Arrhythmology / Pacemaker Consultation , Pacemaker Follow-Up Consultation
Breve CV
Master's degree in Medicine from the Faculty of Medicine, Universidade de Lisboa (2014).
Residency of the Common Year at Hospital Fernando Fonseca (2015).
Complementary Residency in Cardiology at the Centro Hospitalar Universitário Lisboa Norte (Hospital Santa Maria) (2016 – 2020).
European Certification in Echocardiography (2019), Clinical Cardiology (2021).
Specialist in Cardiology (2021).
Invited Assistant in Pathophysiology at the Faculty of Medicine, Universidade de Lisboa.
Researcher at the Cardiovascular Center of the Universidade de Lisboa.
schedules and agreements
Hospital Lusíadas Amadora
Hospital Lusíadas Albufeira
Hospital Lusíadas Amadora

Hospital Lusíadas Albufeira
Agreements
SAMS Quadros
Particular
ADM / IASFA
ADSE
AdvanceCare
Allianz
Ecco-Salva
Fundação Salvador Caetano
Future Healthcare
Imprensa Nacional - Casa da Moeda
Jerónimo Martins
Lusíadas 4US
Medicare
Médis
Médis CTT
Multicare
Multicare - ACS
RNA Medical
SAD/GNR
SAD/PSP
SAMS SIB
Sãvida
SFJ - Sindicato dos Funcionários Judiciais
SSCGD
Staples
KeepWells
Colaboradores Lusíadas (Seguro Saúde Médis)
Lusíadas Plan
SAMS Norte
ARS (SNS - Serviço Nacional de Saúde)
ADSE, IASFA, SAD PSP, SAD GNR - Tabela especial sem convenção