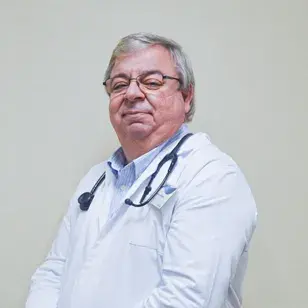 Dr. António Carlos Ribeiro
Languages
Portuguese, French, English, Spanish and Italian
Book
Videoconsultation
Areas of Interest
General Practice and Family Medicine; Arterial hypertension; Type II Diabetes; mild Neurologic / Psychiatric disorders
Consultations
General Medicine Consultation
Breve CV
General Practitioner, registered in the Order of Physicians.
Graduated from the Faculty of Medicine of the University of Lisbon - Stª Maria Hospital (1979).
General Internship at the Hospital de S. Bernardo in Setúbal (1980 - 1981).
Medical Service to the Periphery in the municipality of Moita (1982).
General Practitioner at the Seixal Health Centre (1983 - 1991).
Intern in Internal Medicine at the District Hospital of Faro, having studied Cardiology, Nephrology, Intensive Care, Infectious and Contagious Diseases at Santa Maria Hospital in Lisbon (1992 - 1997).
Began activity in Private Medicine at the Santa Maria Clinic in Faro, where he has remained until the present day in the current Lusíadas Group (1998).
schedules and agreements
Agreements
SAMS Quadros
ADM / IASFA
ADSE
AdvanceCare
Allianz
Associação Mutualista Montepio Geral
CGD - Cartão de Crédito
Ecco-Salva
Future Healthcare
Jerónimo Martins
Lusíadas 4US
Medicare
Médis
Médis CTT
Multicare
Multicare - ACS
RNA Medical
SAD/GNR
SAMS SIB
Sãvida
SFJ - Sindicato dos Funcionários Judiciais
SSCGD
Staples
Universidade do Porto
KeepWells
Colaboradores Lusíadas (Seguro Saúde Médis)
Lusíadas Plan
SAMS Norte
Medical Port
ADSE, IASFA, SAD PSP, SAD GNR - Tabela especial sem convenção