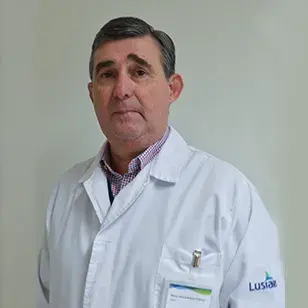 Dr. Bento Charrua
Hospital Lusíadas Amadora:
Clínica Lusíadas Oriente:
Languages
Portuguese, English and Spanish
Areas of Interest
General Gastroenterology; Digestive Endoscopy
Consultations
Gastroenterology Consultation
Breve CV
Medical degree from the Lisbon Faculty of Medicine, since 1977.
Specialist in Gastroenterology since 1988.
Gastroenterology Consultant since 1999.
Member of the Portuguese Societies of Gastroenterology and of Digestive Endoscopy.
schedules and agreements
Hospital Lusíadas Amadora
Clínica Lusíadas Oriente
Hospital Lusíadas Amadora

Clínica Lusíadas Oriente
Terça-feira
14:30 - 16:30
Quinta-feira
09:00 - 17:00
Sexta-feira
09:30 - 11:30
Segunda-feira
10:00 - 17:00
Terça-feira
09:30 - 12:00
Quarta-feira
09:30 - 12:00
Agreements
SAMS Quadros
Particular
ADM / IASFA
ADSE
AdvanceCare
Allianz
Ecco-Salva
Fundação Salvador Caetano
Future Healthcare
Imprensa Nacional - Casa da Moeda
Jerónimo Martins
Lusíadas 4US
Medicare
Médis
Médis CTT
Multicare
Multicare - ACS
RNA Medical
SAD/GNR
SAD/PSP
SAMS SIB
Sãvida
SFJ - Sindicato dos Funcionários Judiciais
SSCGD
Staples
KeepWells
Colaboradores Lusíadas (Seguro Saúde Médis)
Lusíadas Plan
SAMS Norte
ADSE, IASFA, SAD PSP, SAD GNR - Tabela especial sem convenção
Planicare
Agreements
SAMS Quadros
Particular
ADM / IASFA
ADSE
AdvanceCare
Allianz
Ecco-Salva
Fundação Salvador Caetano
Future Healthcare
Imprensa Nacional - Casa da Moeda
Jerónimo Martins
Lusíadas 4US
Medicare
Médis
Médis CTT
Multicare
Multicare - ACS
RNA Medical
SAD/GNR
SAD/PSP
SAMS SIB
Sãvida
SFJ - Sindicato dos Funcionários Judiciais
SSCGD
Staples
KeepWells
Colaboradores Lusíadas (Seguro Saúde Médis)
Lusíadas Plan
SAMS Norte
ADSE, IASFA, SAD PSP, SAD GNR - Tabela especial sem convenção
Planicare