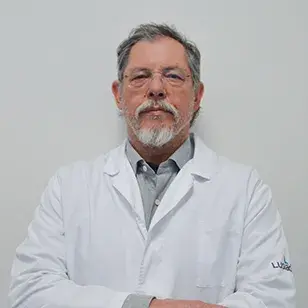 Dr. Canas Marques
Hospital Lusíadas Lisboa:
Languages
Portuguese, English and French
Areas of Interest
Head and neck surgery; Orthognathic surgery and orthodontics – segmental arch and straight wire; Oral surgery and implantology; Cervicofacial and dermatologic surgery; Endoscopic nasal and sinus and pharyngolaryngeal surgery; Aesthetic cervicofacial surgery
Consultations
Maxillofacial Surgery Consultation
Breve CV
Responsible for the Cervical and Maxillofacial Surgery Unit, at Hospital Garcia de Orta's ENT Service.
Coordinator of the Head and Neck and Maxillofacial Surgery Group at Centro Hospitalar Tondela – Viseu.
Maxillofacial Surgeon at Hospital Fernando da Fonseca.

schedules and agreements
Hospital Lusíadas Lisboa
Clínica Lusíadas Almada
Hospital Lusíadas Lisboa

Clínica Lusíadas Almada
Agreements
SAMS Quadros
ADM / IASFA
ADSE
AdvanceCare
Allianz
CGD - Cartão de Crédito
Ecco-Salva
Future Healthcare
Grupo RAR
Jerónimo Martins
Lusíadas 4US
Medicare
Médis
Médis CTT
Multicare
Multicare - ACS
RNA Medical
SAD/GNR
SAD/PSP
SAMS SIB
Sãvida
SFJ - Sindicato dos Funcionários Judiciais
SSCGD
Staples
Universidade do Porto
KeepWells
Colaboradores Lusíadas (Seguro Saúde Médis)
Lusíadas Plan
SAMS Norte
Medical Port
ADSE, IASFA, SAD PSP, SAD GNR - Tabela especial sem convenção