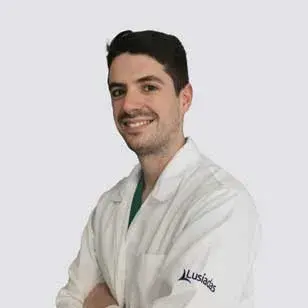 Dr. Rui S. Magalhães
Languages
Portuguese, English and Spanish
Areas of Interest
Transnasal Endoscopy; Endoscopy and Colonoscopy (diagnostic and therapeutic); Monoballoon / Double-balloon Enteroscopy; General Gastroenterology
Consultations
Gastroenterology Consultation
Breve CV
Integrated Masters in Medicine by the Faculty of Medicine of the University of Porto (2009 - 2015).
Common year internship at Centro Hospitalar do Porto (2016).
Internship in specialized training in Gastroenterology at Hospital da Senhora da Oliveira, Guimarães (2017 - 2022).
Internship in double balloon enteroscopy and transnasal endoscopy - Royal Free Unit for Endoscopy, The Royal Free Hospital and University College London (UCL) Institute for Liver and Digestive Health, London.
Internship in emergency endoscopy - Department of Digestive Endoscopy, Hospital da Restauração, Recife, Brazil.