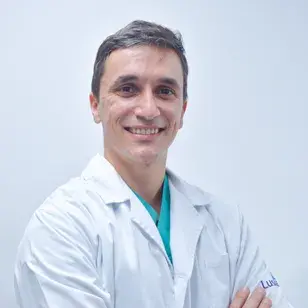 Dr. Vítor Teixeira
Hospital Lusíadas Albufeira:
Languages
Portuguese, English and Spanish
Areas of Interest
Adult Rheumatic Diseases with special interest in Rheumatoid Arthritis, Osteoporosis, Lupus and Vasculitis. Diagnostic and therapeutic techniques (such as musculoskeletal ultrasound and joint and periarticular infiltrations)
Consultations
Rheumatology Consultation, Osteoporosis Consultation, Pediatric Rheumatology Consultation
Breve CV
Integrated Master's degree in Medicine from the Faculty of Medicine, University of Coimbra.
Specialty training in Rheumatology at the Department of Rheumatology and Metabolic Bone Diseases at Hospital de Santa Maria, Centro Hospitalar e Universitário de Lisboa Norte.
Research Fellow at the Vasculitis and Lupus Service, Addenbrooke's Hospital, Cambridge, UK.
Hospital Assistant in Rheumatology at Hospital de Faro.
schedules and agreements
Hospital Lusíadas Albufeira
Clínica Lusíadas Faro
Hospital Lusíadas Albufeira

Clínica Lusíadas Faro