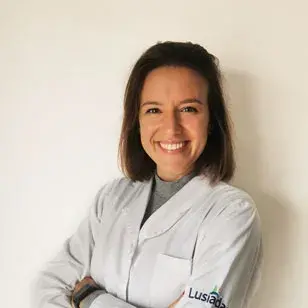 Dra. Ana Rita Gouveia
Lusíadas Dental Amoreiras:
Hospital Lusíadas Lisboa:
Languages
Portuguese and English
Areas of Interest
General Dentistry; Oral Surgery; Periodontology; Fixed Prosthesis
Consultations
Dental Medicine Consultation, Periodontology Consultation
Breve CV
Integrated Master's Degree in Dental Medicine from the Faculty of Dental Medicine, University of Lisbon (2010 - 2015).
Course on Morphology and Sculpture of Posterior Teeth in Composite Resin, SPEMD Lisbon (2016).
Current Concepts in American Dentistry, NYU College of Dentistry (2017).
Post-graduation in Surgery of Inclusive Teeth, Egas Moniz University Institute (2018 - 2019).
IX Periodontology Clinical Course, CLINICCA Célia Coutinho Alves, Porto (2020).
Orofacial Harmonization Course, Face In Medical Knowledge, Lisbon (2020).
schedules and agreements
Lusíadas Dental Amoreiras
Hospital Lusíadas Lisboa
Lusíadas Dental Amoreiras

Hospital Lusíadas Lisboa
Agreements
SAMS Quadros
AdvanceCare
Future Healthcare
Grupo RAR
SFJ - Sindicato dos Funcionários Judiciais
KeepWells
Colaboradores Lusíadas (Seguro Saúde Médis)
Lusíadas Plan
Agreements
SAMS Quadros
AdvanceCare
CGD - Cartão de Crédito
Ecco-Salva
Future Healthcare
Grupo RAR
Jerónimo Martins
Lusíadas 4US
Medicare
Multicare
SAMS SIB
SFJ - Sindicato dos Funcionários Judiciais
SSCGD
Staples
Universidade do Porto
KeepWells
Colaboradores Lusíadas (Seguro Saúde Médis)
Lusíadas Plan
SAMS Norte
Medical Port