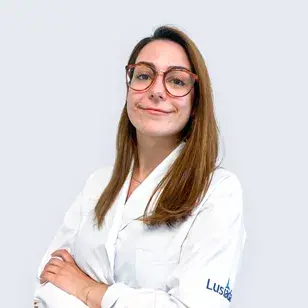 Dra. Anna Carolina Ribeiro
Clínica Lusíadas Oriente:
Languages
Portuguese, French, Spanish and English
Areas of Interest
General Dentist; Endodontics
Consultations
Dental Medicine Consultation
Breve CV
1997 to 2002 - Collège Du Leman, Geneva.
2002 to 2011 - Liceu Francês Charles Lepierre, Lisbon.
2011 to 2016 - Integrated Master's degree in Dental Medicine, at Instituto Superior de Ciências da Saúde Egas Moniz.
2017 - Centro Europeu de Pós-Graduação - Aesthetic Dentistry Course.
2018 - Introduction to Orthodontics.
2019 - Post-Graduate diploma in Oral Surgery, University of Santa Clara, Cuba.
2020 - Centro Europeu de Pós-Graduação - Course on Prosthodontics, Aesthetics and Occlusion in Oral Rehabilitation.
schedules and agreements
Agreements
SAMS Quadros
Particular
ADM / IASFA
ADSE
AdvanceCare
Allianz
Ecco-Salva
Fundação Salvador Caetano
Future Healthcare
Jerónimo Martins
Lusíadas 4US
Medicare
Médis
Médis CTT
Multicare
Multicare - ACS
SAD/GNR
SAD/PSP
SAMS SIB
SSCGD
Staples
KeepWells
Lusíadas Plan
SAMS Norte
Medical Port
ADSE, IASFA, SAD PSP, SAD GNR - Tabela especial sem convenção