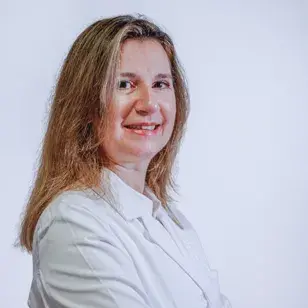 Dra. Eunice Neto
Clínica Lusíadas Forum Algarve:
Languages
Portuguese, English and Spanish
Areas of Interest
Occlusion, Temporomandibular Disorders, Dentistry, Oral Rehabilitation, Fixed and Removable Prosthesis (excluding Oral Surgery and Endodontics)
Consultations
Dental Medicine Consultation, Fixed Prosthesis Consultation
Breve CV
Degree in Dental Medicine by ISCS-Egas Moniz (1997).
Course in Occlusion and Oral and Functional Rehabilitation-Prof. Dupais.
Global Postural Reprogramming Course-Bernard Bricot.
Flowable Injection Technique- Dr. Enrique Guzman.
Post-Graduate course in Occlusion and Temporomandibular Disorders - Face.
Several courses in Occlusion and Dental Aesthetics.
schedules and agreements
Clínica Lusíadas Forum Algarve
Clínica Lusíadas Forum Algarve
Agreements
SAMS Quadros
AdvanceCare
Associação Mutualista Montepio Geral
CGD - Cartão de Crédito
Ecco-Salva
Future Healthcare
Jerónimo Martins
Lusíadas 4US
Medicare
Multicare
RNA Medical
SAMS SIB
Sãvida
SFJ - Sindicato dos Funcionários Judiciais
SSCGD
Staples
Universidade do Porto
KeepWells
Colaboradores Lusíadas (Seguro Saúde Médis)
Lusíadas Plan
SAMS Norte
Medical Port
ARS (SNS - Serviço Nacional de Saúde)